Lights in the Sky: Observing Characteristics of Modern China
My first visit to China was in May 2013, when my girlfriend took me on a three week round trip of the places where she had grown up and gone to school.
When I think back on the trip, one of the first images coming to mind is that of Wenhua plaza (文化广场) in Changchun (长春) after sunset. The park then fills with people who, after spending long hours at work or at school, come to relax and have a good time. Couples take romantic strolls, groups set up boomboxes and turn various corners of the park into open-air dance floors, and some play with their dogs or electronic flying toys. As we joined the crowd one night, we saw sky lanterns (天灯) rise above the buildings surrounding the plaza.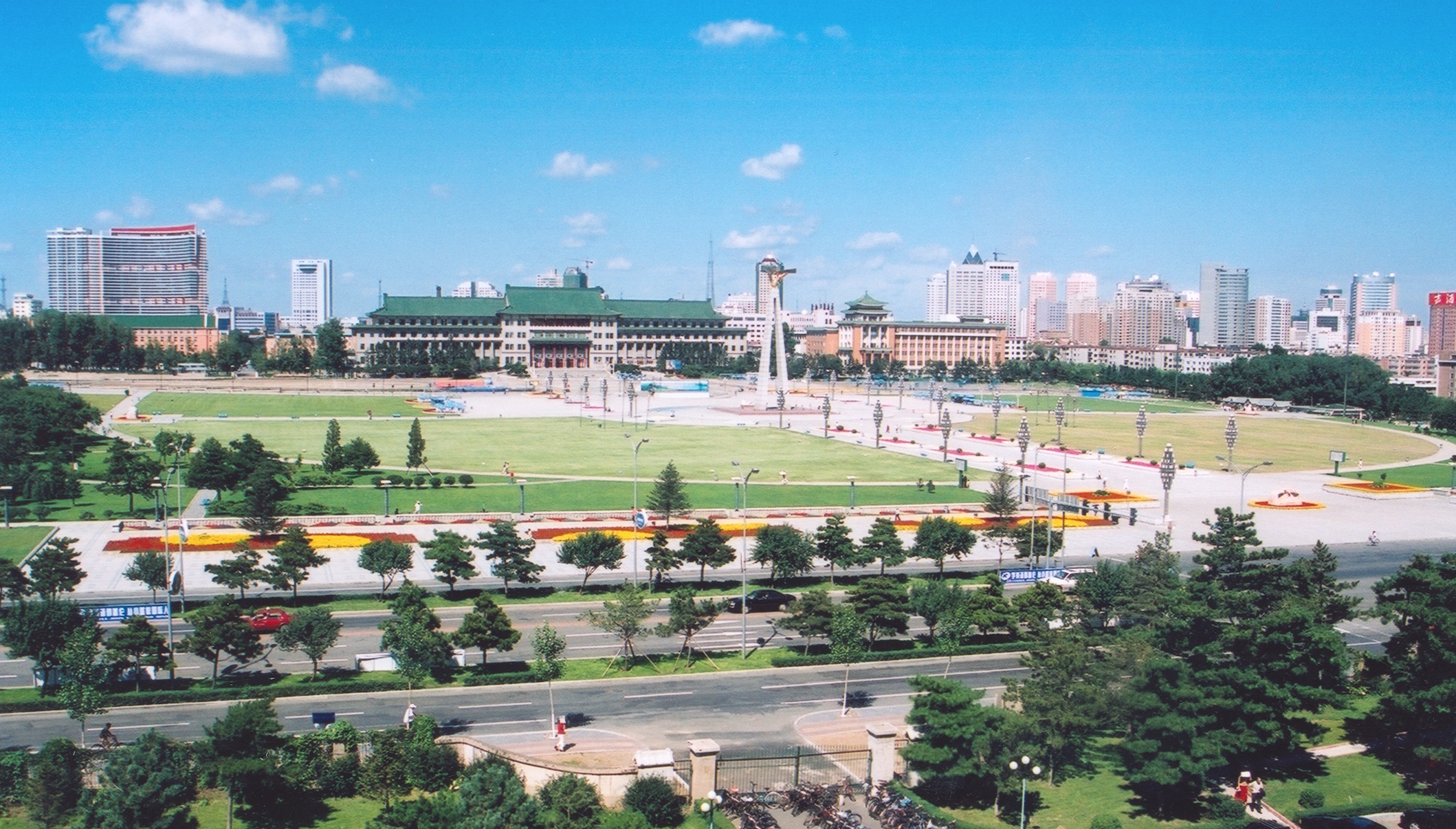 -Wenhua Plaza in Changchun, Jilin Province (Copyright: Wang Jin)
Sky lanterns are small hot air balloons traditionally made of paper that people in China launch to wish for good fortune, adorning the night sky with bright orange dots. That night, their peaceful ascent was suddenly disrupted by a humming noise. One of the flying toys, a miniature drone with neon red lights, started circling the lanterns. Apparently, some mischievous youngsters controlling the drone were trying to take one of the glowing little paper balloons down. Skilled as they were in handling the remote operated drone, they could not land a hit for a long time, and an entire group of half a dozen lanterns disappeared into the night sky, undisturbed. As a second group was released some time later, the drone came back, scored and sent one lantern from a slow ascent into a rapid descent amid cheering from the drone pilots.
It is tempting to attach a symbolic meaning to the clash between the drone and the lanterns, to read it as a bad omen for Chinese culture in the age of technology and rapid modernisation. After all, living in the 'global village', one might think that national characteristics are disappearing in favour of an increasingly global culture dominated by technology and widely known brands like Starbucks, KFC or Apple, which are currently hugely popular in China.
Yet the longer I stayed in China, the more I realised that this 'typically Chinese' versus 'modern' opposition is a false one. I found many characteristics of everyday life in modern China to be as rich and interesting as those rooted in tradition. For example, I witnessed large masses of people gather in parks in the morning to practice Taijiquan (太极拳) or popular dancing under guidance in the evening. What struck me as characteristic of how the Chinese socialise is that meals play an important role. The food is always shared from bowls in the middle of the table, and it is always easy to find a restaurant in cities, large or small, that serves delicious, varied and affordable food. Another noticeable aspect of socialising in China is the unceremonious goodbye. When Chinese people part, there is no hugging, stalling, drawn-out exchanging of social network nicknames or even crying, such as I sometimes experience in Europe. The goodbyes happen so quickly that you almost miss them.
Another area where certain characteristics caught my attention is the modern architecture in cities like Beijing (北京) or Dalian (大连). Some modern public buildings appeared unwieldy and colossal, with what seemed like twice the amount of concrete that would have been required to build them. Conversely, details of certain high-rise buildings were quite attractive, such as the lantern-like pavilions or empty frame structures above the top floor, which seemed to anchor the buildings in the sky. Such details even made a large cluster of identical blocks of flats a sight to behold. Finally, I took delight in noticing little instances of the traditional and the modern combined in surprising ways: two guardian lions placed on either side of a former palace entrance turned out to be made of plastic and used as dustbins!
The Chinese summer camp in Beijing in July 2014* was my second visit to China, an opportunity to practice acquired language skills and deepen my knowledge of Chinese culture. Being a bit further advanced in Chinese than most learners in the group, I did not profit as much from the language lessons. These nonetheless provided useful refresher training. However, when going out to town with other students, the task of communicating with taxi drivers and waitresses usually fell to me, which was valuable real life practice. And being the only German in a group of Dutch students, I could practice two languages at the same time! The intensive programme of the camp was impeccably organised by the teachers and highly enjoyable. Besides the language courses and culture courses on Chinese calligraphy, knotting, music and film, we visited many Beijing attractions and surrounding sights. A special highlight that springs to mind is the weekend high-speed train trip to a city called Tianjin (天津). We enjoyed the relaxed ambiance and varied skyline a lot. During a boat cruise on the Hai River (海河), we observed the Tianjin Eye Ferris Wheel (天津之眼), which was built on top of a bridge, competing with skyscrapers in a most playful contribution to the city lights. It was this view – again: lights before the night sky – that became my most vivid memory of the trip.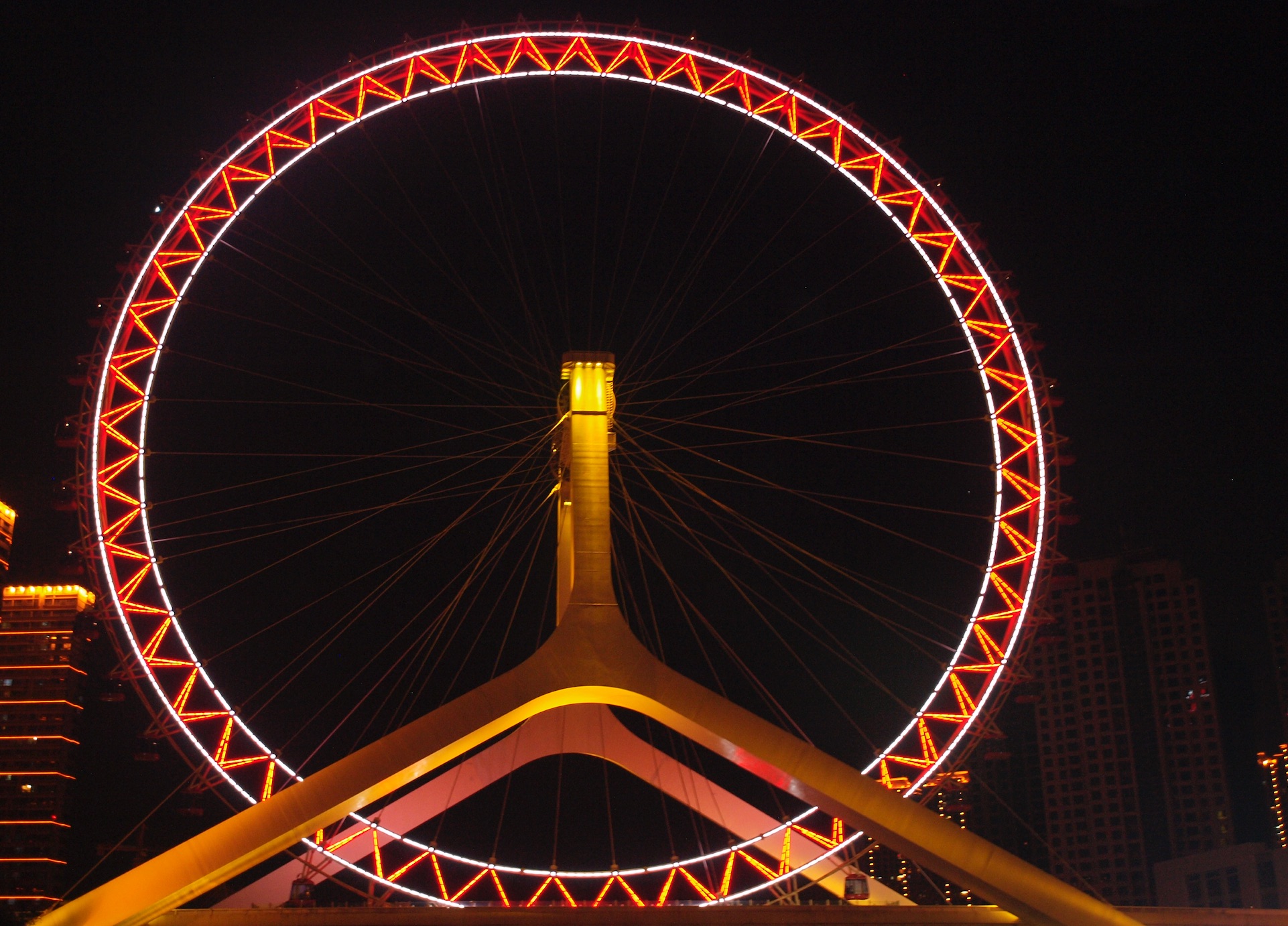 -Tianjin Eye Ferris Wheel (Copyright: Marieke Havinga)
Travelling in China for three weeks and participating in the summer camp gave me such a wealth of experiences and observations that to relate more than a tiny fraction of them would fill many pages (which I did in a travel diary sent to friends and family). But there is so much more to experience and observe, and deepen our understanding of Chinese culture. In Beijing International Airport, as I was about to return to Europe, I bade China a short and unceremonious, but nonetheless cordial goodbye: "See you soon!"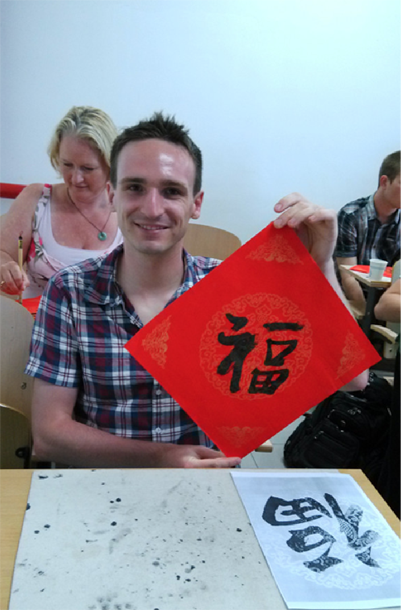 -Kilian Evang, Summer Camp 2014, Communication University China, Beijing (Copyright: Hao Cui)