Xiamen Airlines: An Epitome of China's Aviation Industry Development
On January 26, 2018, Boeing delivered its 787-9 Dreamliner to Xiamen Airlines at its Charleston plant in America. This particular plane is the world's only officially confirmed United Nations special-painted airliner, with its body conspicuously painted with the words "in support of the UN" and with markings of Sustainable Development Goals (SDGs). The delivery ceremony for this special aircraft was attended by the UN Under Secretary General Alison Smale, Chinese Ambassador to the United States of America Cui Tiankai, and Boeing Vice President Brad Zaback. In her speech on behalf of the UN Secretary General, Madam Alison Smale expressed her appreciation to Xiamen Airlines for its outstanding contribution in promoting the SDGs. How could a Chinese airline win recognition from the UN? And how does it stand out from the crowd?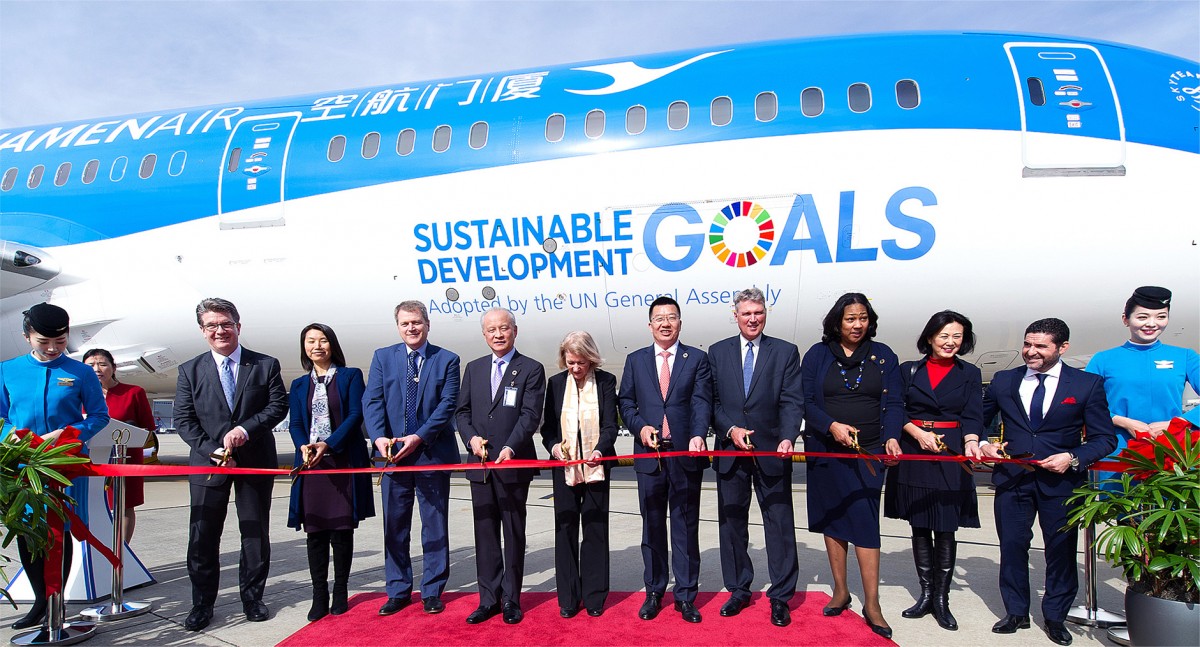 - The ribbon-cutting ceremony for the delivery of the SDGs-livery plane to Xiamen Airlines ©Xiamen Airlines
Founded in 1984, Xiamen Airlines is headquartered in Xiamen, Fujian Province on China's southeastern coast. As of May 2018, Xiamen Airlines operated a fleet of 200 airplanes. With an average service age of five years, the fleet ranks among the world's youngest, boasting twelve of the most advanced Boeing 787-8 and 787-9 Dreamliners. In 2017, Xiamen Airlines carried approximately 32 million passengers. The company currently has 9.8 million passengers on its frequent flyer program, and its passenger volume for this year is expected to reach 40 million. At present, Xiamen Airlines operates nearly 500 domestic and international routes, with a strong presence in Southeast Asia and Northeast Asia. Its service network covers Europe, Oceania and Americas and reaches all major destinations around the globe via the SkyTeam Alliance. Its newest flying route will be a direct service to and from Fuzhou to Paris at the end of this year.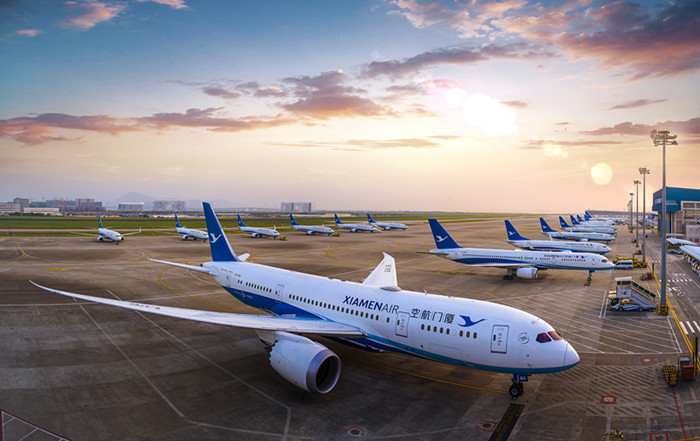 - The fleet of Xiamen Airlines ©Xiamen Airlines
However, when speaking of preferred Chinese airlines, most people still come up with the "Big Three" carriers: Air China, China Eastern, China Southern. Air China is the flag carrier with its headquarters and main hub in Beijing, China's capital city. China Southern Airlines expands to become the world's fourth-largest airline and Asia's largest airline in fleet size while China Eastern Airlines ranks the second largest airline in China. Xiamen Airlines may not have a very large fleet or passenger volume when compared with the world's largest airline companies, and is real no match for China's "Big Three" carriers in terms of hub market and flight hours. Nevertheless, it is one of the few carriers in the world and the only one in China to have a 31-year track record of profitable operations and a high reputation, praised by Chinese President Xi Jinping as the "epitome of the development of China's aviation industry".
A Worldwide Leader in Main Fleet Reliability
When it comes to air travel, the biggest concern for passengers is safety. Although flying is the safest mode of transportation, any safety accident will inevitably attract intense attention around the world.
In 2010, the global aviation industry reported multiple in-flight shutdown accidents caused by HMU (hydromechanical unit, the core of the engine) failures; such failures could not have foreseen by carriers, posing a significant threat to flight safety.
To cope with this fatal issue for the global aviation industry, Xiamen Airlines assembled a technical team consisting of dozens of the most experienced engineers. Team members worked tirelessly under enormous pressure that often kept them up past midnight. However, with the ultimate commitment to flight safety and in adherence to the "zero tolerance" for safety hazards, these engineers embarked on a painstaking process of technical exploration. They conducted a decoding analysis of all the data on QAR (quick access recorder) disks, discovering that certain parameters were slightly different. Their three-month hard work culminated in the development of a creative monitoring solution which detects and prevents the early characteristics prior to HMU failures.
Xiamen Airlines did not keep this hard-won technical solution to itself, but generously shared it with engine manufacturers GE and Honeywell. GE then introduced it to its clients worldwide and pushed plants to improve their manufacturing technology using the technical solution of Xiamen Airlines, raising the factor of safety for global carriers. In 2013, Honeywell presented the "Award for Outstanding Contribution" to Xiamen Airlines in recognition of its special contribution to global aviation safety.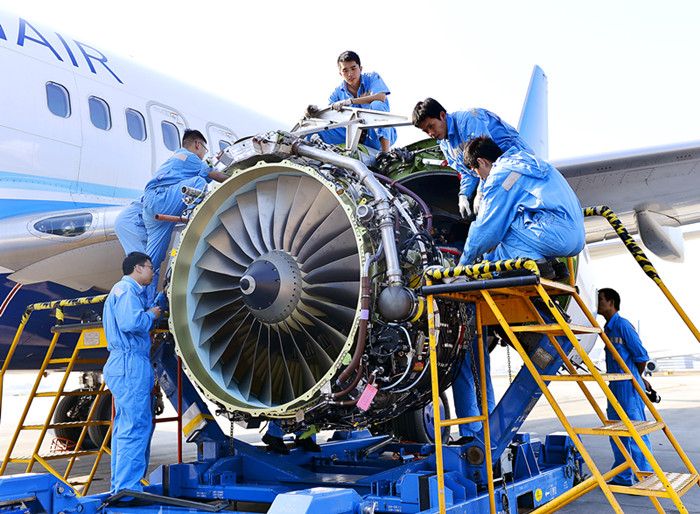 - Xiamen Airlines Engineers Working on Engine Maintenance ©Xiamen Airlines
In the past five years, the global aviation industry had reported a serious-accident rate of 0.0872 per one million flight hours, while China's aviation industry had zero; and the rolling five-year rate of accident proneness caused by human factors stood at 0.032 for China's aviation industry, compared with 0.005 for Xiamen Airlines. These key figures show that China has one of the best aviation safety records in the world, while Xiamen Airlines leads the Chinese aviation industry in safety. To date, Xiamen Airlines has recorded a cumulative total of over 4.5 million of safe flight hours. In 2017, its main aircraft model, 737NG (accounting for 90% of its fleet), had a reliability rate of 99.9%, the highest in the world. And Xiamen Airlines just received the Boeing 787 Fleet Reliability Award recently for the highest reliability of Dreamliners among all the airlines globally. Xiamen Airlines has passed the IATA Operational Safety Audit (IOSA), the benchmark for global safety management in airlines, for six times in a row with zero nonconformance, becoming the world's first carrier to win the "IOSA Award for Outstanding Achievements".
"Smile Within Three Meters, Greet Within One Meter"
If safety is what brings passengers to Xiamen Airlines, high-quality service is what retains the passengers. A search on social media revealed passenger comments on Xiamen Airlines and numerous "likes" turn up for its service, with many passengers exclaiming: "the cabin crew is really nice, the service is really nice, and the food is really nice."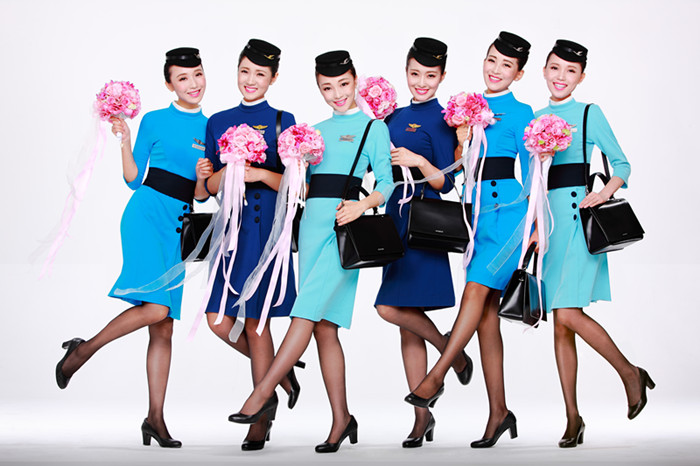 - Warm and hospitable Xiamen Airlines flight attendants ©Xiamen Airlines
Smile within three meters, greet within one meter, and squat down to listen attentively if your conservation with the passenger is going to have more than three sentences. This is part of the code of service for everyone at Xiamen Airlines. Elegance and attention to details is the hallmark of Xiamen Airlines' service. The company is also devoted to its employees, who in turn convey their devotion to the passengers. The turnover rate among Xiamen Airlines' over 20,000 employees, particularly among pilots and other key personnel, is far below the industry's average.
In the clean and spacious workrooms, the chefs were cutting fruits into regular shapes. "Xiamen Airlines even has a particular style of fruit cutting," said Chen Yizhen, Chief Operating Officer for Customer Service. "Everything gets done in strict accordance with the handbook; this ensures that our service quality remains constant at all times."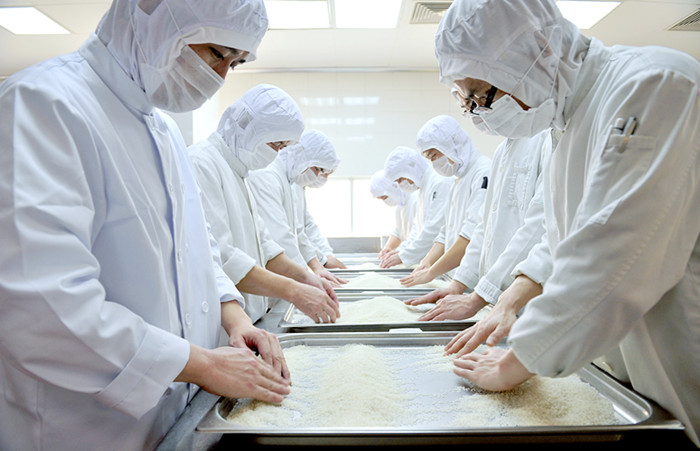 - The national conformance standard requires rice to contain less than 3% foreign matter, but Xiamen Airlines ensures its rice contains none. ©Xiamen Airlines
According to Chen Yizhen, who was one of Xiamen Airlines' first flight attendants, following the rules to the letter is part and parcel of the company's "handbook culture". Since the compilation of the Cabin Crew Handbook in 1990, Xiamen Airlines has prepared 94 standardized management handbooks, totally 13.5 million words and covering all departments, all positions and all jobs. Today, "handbooks" are regarded as "the mini-constitution of Xiamen Airlines". With such standardized management, Xiamen Airlines employees' manners and courtesy always make global passengers feel at home.
"Food is the primary need of a man," so goes an old Chinese saying. Xiamen Airlines spares no efforts to provide its passengers with the best food. It has developed a good variety of health-nursing dishes in accordance with modern nutrition and health principles. These dishes take into consideration changes of season, climate and the geographic distribution of passengers. Tea is the Chinese equivalent of coffee. Xiamen Airlines offers its passengers 13 types of tea as drinks with in-flight meals, including Tie Guanyin Tea, which ranks among China's top four kinds of tea; Lapsang Sauchong black tea, which is more to the taste of American people; and Earl Grey black tea, a favourite among many European tea drinkers. Moreover, it has developed over a hundred tea meals and tea refreshments. Xiamen Airlines was also the first carrier to offer an online menu selection service, allowing passengers to order customized meals in flights as they do on the ground. Thanks to its prestigious reputation among travelers, Xiamen Airlines has received the accolade of "the Chinese Airline with the Best Service" for five consecutive years.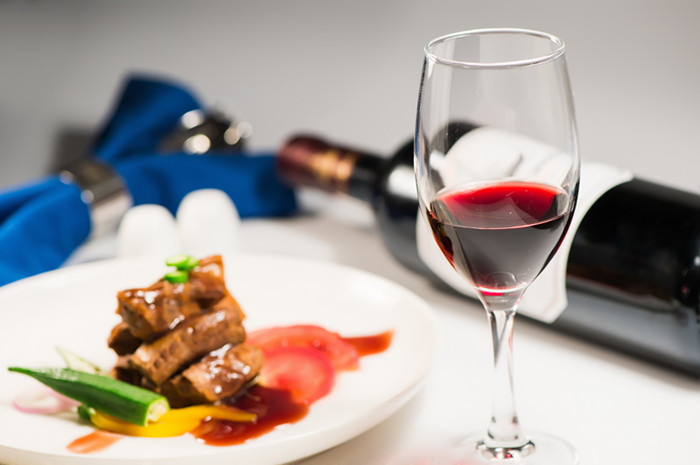 - Xiamen Airlines' Exquisite "On-Clouds" Meal ©Xiamen Airlines
"Image Ambassador in Air" for UN Sustainable Development Goals (SDGs)
The special-painted aircraft, mentioned at the beginning of this article, was derived from the partnership agreement that Xiamen Airlines signed with the UN on February 15, 2017 at its headquarters in New York City. With the agreement, Xiamen Airlines became the world's first airline to commit itself to supporting the SDGs.
As one of the most significant outcomes of the partnership between Xiamen Airlines and the UN, the aircraft with a special SDGs painting has a predominantly blue body, representing goodness, hope and an unlimited future. The white wave on the belly of the aircraft symbolizes the oceans that nourish the lives on earth. The body of the plane is painted with the slogan of "in support of the UN", while the tail fin is adorned with 17 SDGs markings. The entire painting design is simplistic yet graceful and dynamic.
Xiamen Airlines even launched a global contest for naming proposals, receiving more than 8,000 entries from around the world. Eventually, the entry "United Dream", a name that had won most of the votes and best captures the significance of the plane, was officially adopted as the name for the special plane. "United" represents the UN, the partnership between Xiamen Airlines and the UN, and the unity of all people across the world in supporting sustainable development. "Dream" reflects not only the characteristics of the Boeing 787-9 Dreamliner, but also the wishes for the 17 SDGs and aspirations for a brighter future.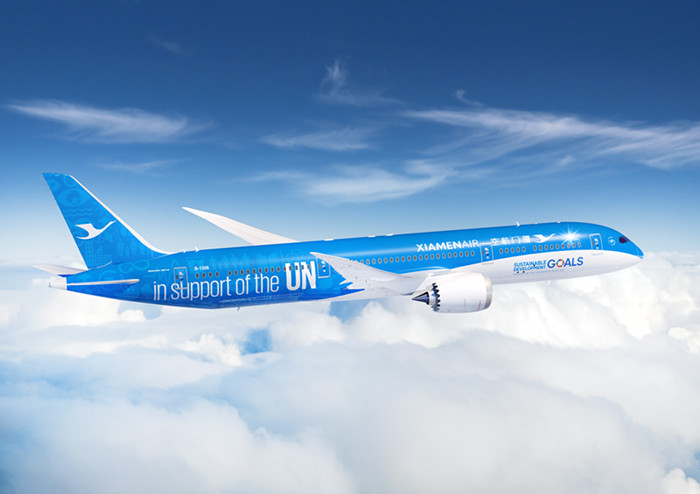 - The "United Dream" ©Xiamen Airlines
According to Zhao Dong, CEO of Xiamen Airlines, the special plane will serve intercontinental routes and highlight sustainable development themes in a comprehensive manner. Apart from the body painting, in all other aspects, from cabin configuration and in-flight audiovisual programs to green food and thematic events, and even to customized services, the plane will be transformed into the "image ambassador in air" for the SDGs. This delivers a memorable sustainable development-themed flying experience for global passengers. Moreover, the company will continually deploy a Boeing 737MAX jet painted with SDGs themes exclusively for Asian routes.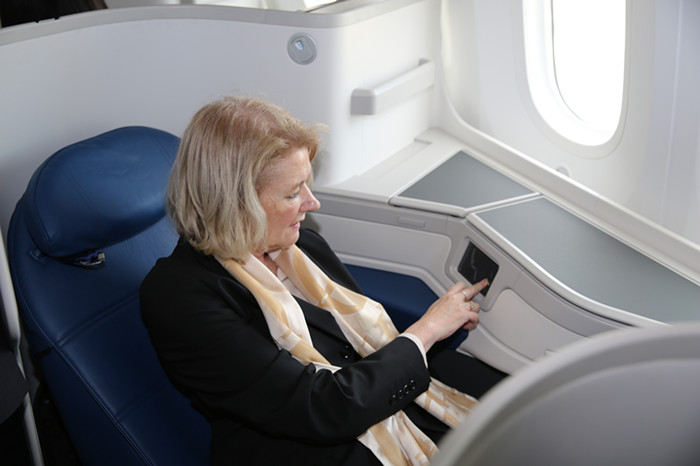 - UN Under-Secretary General Alison Smale gets a taste of the reverse fishbone-shaped business-class seats ©Xiamen Airlines
Widely recognized for its safety record, pursuing excellence in service, and devoted to the common good of the world, Xiamen Airlines has become a new choice for business and leisure travellers to fly with when heading to China.