If You Are the One
Living in Beijing (北京) as a 3S woman –this describes the life of a woman who is old enough to marry but still single. 3S means 'single, seventies (1970s) and stuck.' Xiao Zhao is a 35-year-old manager of an independent micro-company who earns good money and enjoys a colourful life. Every weekend one of her most favourite ways to relax is to watch the TV programme If You Are the One (《非诚勿扰》). She finds it very interesting to discuss controversial topics raised in the programme with her friends. It is amazing, she adds, to find that "some girl's thoughts in the show are just like her own."
At the beginning 2010, Jiangsu TV (江苏 卫视) launched a new love and marriage TV programme If You Are the One on Saturday and Sunday evenings. It had a surprisingly great effect on audiences because of its popular love and marriage theme as well as its innovative programme format and hosting style. It lets the female and male guest choose their dating partner after brief verbal account of their life and personal values. From celebrities to the man in the street, if you ask people whether they have watched If You Are the One, then the likelihood is that they have: in 2010, it was the hottest TV show in China.
If You Are the One is hosted by Jiangsu TV's famous anchorman Meng Fei (孟非). This game show does not simply aim at providing a platform for single people to meet each other and pick out their dream partner. The dating programme has an innovative format, letting 24 girls decide whether the boy can stay by turning off or keeping the light on before each of them. The whole process is divided into four sessions, First Impression (爱之初体验), Closer Look (爱之再判断), Last Decision (爱之终决选), and the Boy's Right to Choose (男生权利). In this way, the young people choose their dating partner in half an hour. It creates an intensive mood and provides a brandnew way of meeting and falling in love, signalling a big breakthrough compared with the traditional programmes with similar themes. Audiences can catch a good glimpse of today's Chinese young people's ideas about love and marriage, their values and their states of life, especially those of the 1980s and 1990s generation.
Besides, in terms of audience rating, If You Are the One has increased its TV audience share since it was rst launched, beating all record ratings. In 2010, the audience rating of the episode on 28 March 2010 was 2.82 percent, topping the viewing gure for other TV domestic programmes. In April, the eighteenth episode created a new high record of 3.76 percent reaching 4.15 percent at the beginning of May of that year. If You Are the One has become the most watched TV programme in China.
Not only among 'couch potatoes', If You Are the One became an instant discussion topic after it premiered. Even 'indoor IT men', who are mostly fans of geographical exploration or military programmes, and business elites whose primary concern is the business and nancial news, claim to love the show and wouldn't miss any of the weekly episodes. Why does the show, then, enjoy such popularity? What is the hidden secret behind its success in such a highly competitive environment?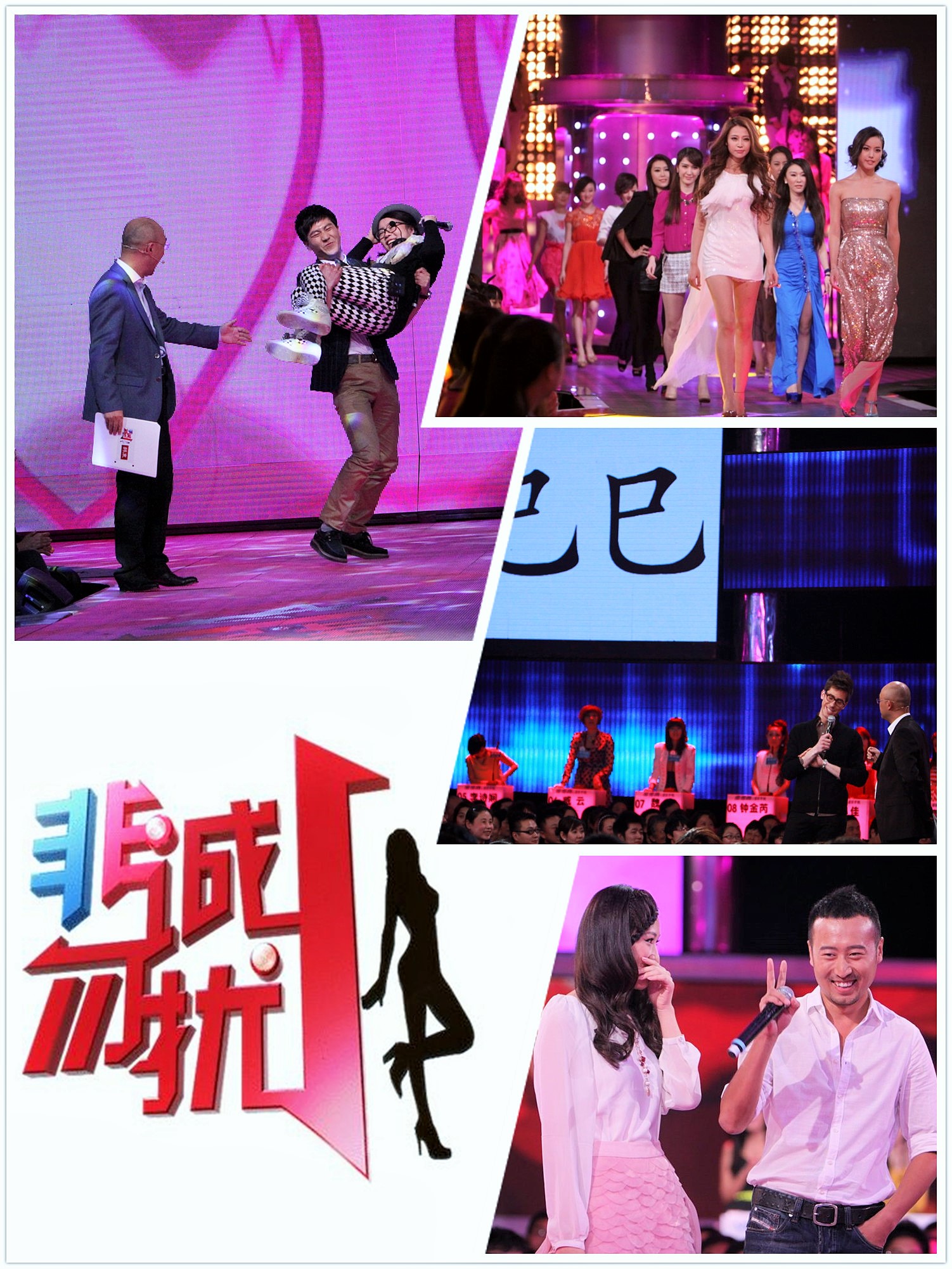 -If You Are the One (photo collection 1) Copyright: Jiangsu TV
The primary reason for the popularity of If You Are the One is the creative
design of the programme format and the new images. In today's society of sensual appeal and over-advertisement, it is no surprise to see that most people welcome this new programme design of 24 beautiful single women on the stage showing their beauty and wisdom, as well as their different personalities and tastes. Dressing variously, they come from different family backgrounds and of different professions such as the beautiful model Na Di (那笛), the business executive Shen Si (沈思), the academic elite Zhang Xiaochen (张晓晨) and the sports champion Xu Yaping (许亚萍). These girls ask direct questions, make pungent comments, and even argue violently with the host and observers, all of which make the programme more interesting and entertaining. This greatly satis es the audience's various aesthetic standards and psychological needs. People feel pleasantly entertained. The contrast between delicate and charming women and their sharp outspoken opinions provides visual, auditory and psychological enjoyment to a wide audience.
The second reason why If You Are the One is welcomed by so many people from different social classes is the grace and sensible talking style of the host and commentators. The show's host Meng Fei is a long-time news anchor. His previous career dealt with serious social issues and people's livelihood, giving him a broad knowledge base but also a comprehensive understanding of life experiences. His outstanding control ability always enables him to catch the audience's excitement at appropriate times, which he uses to maximum effect. Furthermore, the programme invites China's renowned psychological expert and colour character analysis inventor Le Jia (乐嘉) and Professor of Social Psychology Huang Han (黄菡) from Nanjing University (南京大学) as observers and commentators on the show. Le Jia is well known for his sharp tongue and his direct criticism and appraisal. He often pierces into the heart of the matter and his straight comments of the guests usually make them feel embarrassed, which the audience loves. This, along with Professor Huang's sensibility and intelligence, adds a psychological dimension to the programme rather than being just shallow entertainment. In this way, If You Are the One successfully distinguishes itself from the usual programmes that centre on love and marriage, breaking into a new kind of TV audience: elite people with higher tastes for TV programmes.
The last and the most important reason for the show's popularity is that it re ects today's Chinese young people's ideas and values. It is not an overstatement to say that If You Are the One is a mirror of Chinese contemporary society. Looking into this mirror, a lot of big changes in people's thinking become apparent. Traditionally, Chinese people attached great importance to marriage. In ancient times, people arranged their children's marriage according to the 'rules of propriety' (《周礼》). The whole process of marriage included decision making, asking the girl's name and birthday, proposing the marriage, sending marriage presents, selecting the auspicious day for the wedding itself (纳采, 问名, 纳吉, 纳征, 请期, 亲迎). This is called Liu Li (六礼, Six Manners of Marriage). Besides, all marriages should follow the rules of hierarchy, as the Chinese saying goes: "People from different social classes can't get intermarried" (良贱不婚). But today, Chinese people's thoughts about love and marriage have evolved tremendously: most of those traditional patriarchal thoughts and male chauvinism have been replaced by greater openness and freedom. People become more tolerant and more understanding towards today's diversied values.

-If You Are the One (photo collection2) Copyright: Jiangsu TV
What's more, If You Are the One not only successfully catches the hot topics of dating, love and marriage, but also explores the deeper underlying social issues. It further breaks down the topics into a number of subtopics, e.g. how to distribute money after marriage; how to raise children and support parents; how to deal with the gap of different social classes and different educational levels; and whether the female should work after marriage. As individuals have to face and deal with these issues at some point in their lives, they can get some inspiration and advice from this reality show.
All in all, with its popular theme, innovative programme design, controversial topics and new hosting style, the TV programme If You Are the One has successfully gained mass popularity in China. The high audience ratings show that it is one of the most watched TV programme over the last few years, with its host Meng Fei winning the best TV host of the year in 2012. Apart from that, many interesting issues are raised in the programme, serving as a form of entertainment, with people identifying themselves with the participants in the show. Their values, concerns, and expectations are re ected in this programme. But in this fast-changing modern world, where people are used to always chasing the newest things, the question remains: Will If You Are the One still keep its edge and survive in the competitive market? Can this programme beat another TV record rating in the future? In order to keep its attractiveness, more thought and effort would be required to sustain the popularity and success of the programme in the long run.