The Reader "The Refreshing"
"Ting!" Yet another message pops up on my phone about The Reader, a popular cultural and life-story television programme in China. Recently, a whole host of articles and discussions in different social media announce its popularity. A real buzz created on social media with users and commentators lauded The Reader as "The Refreshing". The programme comes as a refreshing change, far removed from reality shows which have been increasingly dominating China's TV schedules over the last three years. For me personally, The Reader awakened fond memories of the beginning of a typical school day in my childhood when we read a text out loud together in class, be it a poem, prose or story. Reading aloud and reciting classical Chinese poems characterized with rhymes usually typified our initial step to learn about Chinese literature.
The Reader, established by China Central Television (CCTV) on 18 February 2017, is a 90-minute show, with literature recitals and life stories as their defining features. Since transmission, it has become an instant hit, obtaining a high rating of 8.8 out of a maximum 10.0 in Douban, while the reality shows were averagely rated around 8. The show is produced and hosted by Dong Qing, a regular host of Chinese New Year Galas and who has gained considerable public attention due to her profound literary knowledge shown in the popular cultural show called Chinese Poetry Congress. In the first episode of The Reader, she explained the aim of show: "The reader is the person who reads. Reading is to disseminate words, while people are to demonstrate life. The perfect combination of respectful life and noteworthy words composes The Reader."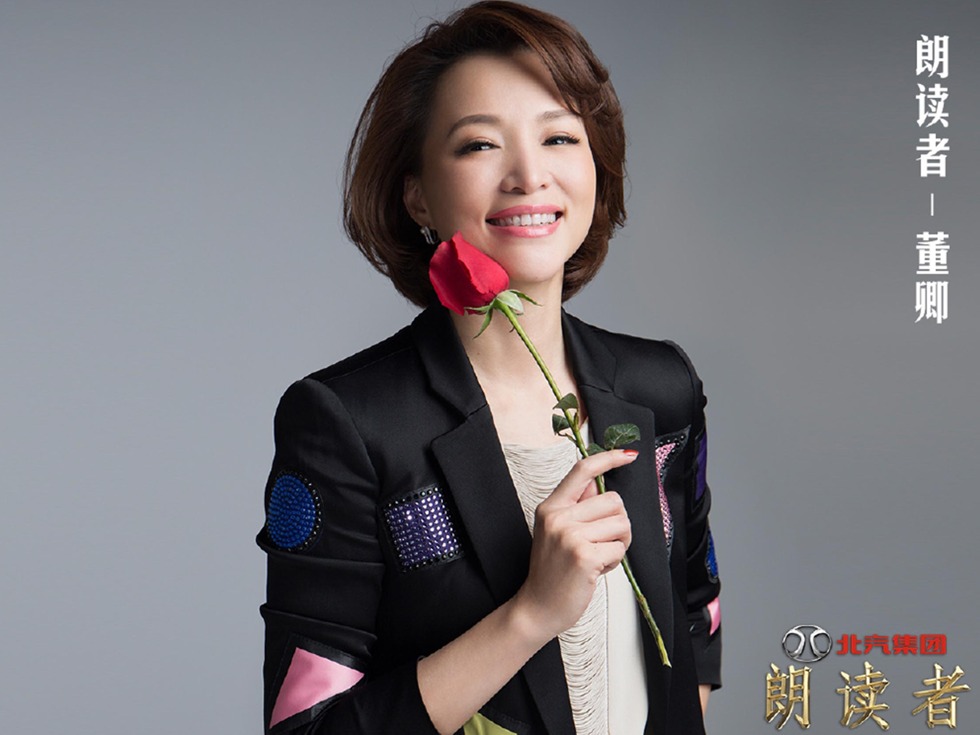 - Dong Qing, the producer and host of The Reader ©CCTV The Reader
Each episode has its topic, one that has been chosen with meticulous care. At the time of this article, there are five episodes with titles Encounter, Accompaniment, Choice, Present, The First Time respectively. Simple and plain, they are deeply rooted in everyone's life. In other ways, everyone has stories to share which most likely strike a chord in others' minds. For instance, in the episode of Accompaniment, the most common emotion displayed by most invited guests is readers' gratitude for their family. Recalling this particular programme, the director Liu Xin said: "The show opens up the emotional landscape for the audience. Emotions are universal, uniting us together. Only by awakening the emotions dwelling in the depth of their hearts can resonate with the audience." In addition to the universal nature of these five themes, they have immense power to impose significant changes to our life and possibly to others. For example, in the third episode titled Choice, the choice made by Qin Yuefei, a full-scholarship graduate from Yale University, improved many people's life in one of the most impoverished villages in Hunan Province. His strong educational background, for sure, would guarantee a job with a fat pay check; however, he chose to work with meagre income in the rural area. His commitment and devotion to this area bred fruitful results: a new elderly house opening, dykes and roads building. His behaviour reminded me of a poem by Robert Frost (1916): "Two roads diverged in a yellow wood, and I—I took the one less travelled by, and that has made all the difference."
Reading aloud literary works addressing these eternal topics is one of core elements in The Reader. Literature functions where readers find spiritual and emotional support and resonance with their own experience were read to pay tribute, express gratefulness and deliver best wishes to people and things of paramount important to the readers. As W. Somerset Maugham (1919) said: "Art is a manifestation of emotion." Literature is definitely one form of art. For instance, member of Doctors Without Borders, Jiang Li read Bob Dylan's Blow in the Wind to thousands of new-borns in Afghanistan whom she delivered during her 100 days' stay. In her reading, she expressed her love for the babies in an environment of suffering. Meanwhile, the show invites eminent writers Tie Ning, Wang Meng, Yu Qiuyu, Feng Jicai as literature counsellors and Bi Shuming, Li Jingze and others as literature commentators, which ensure the quality of literature works to be shared with the audience, both in the audience and at home on the TV. Most of the presented works are classic works home and abroad, such as The Old Man and the Sea by Ernest Hemingway or Ordinary World (平凡的世界) by Lu Yao. In the episode of The First Time, excerpts of Ordinary World were recited: "Every individual even the most ordinary one has his own world. He needs to fight for the being of his world. In this sense, not a single day is quiet in these ordinary worlds.
The Reader demonstrated that no matter behind the enviable façade of famous people or behind the obscurity of ordinary people hid similar experiences of joys and sorrows. The involvement of these two groups has undoubtedly contributed to the show's great popularity because the appearance of famous people from all walks of life, such as Lenovo founder Liu Chuanzhi, has attracted the audience's attention while ordinary people bring the show close to everybody's life. Another reason of the popularity might be attributed to setting up reading pavilions in cities like Beijing, Shanghai and Hangzhou. The moment a reader enters such a pavilion, it turns into his own recording studio where he can recite his chosen literature for his beloved ones. Its aim is to remind people to temporarily step out of their busy life and step into the world of literature connected with their feelings. It is, as Dong Qing, the host of The Reader, said: "We wish that everyone will gradually regard the pavilions as a way to express feelings." The queues are reportedly very long outside pavilions in these cities.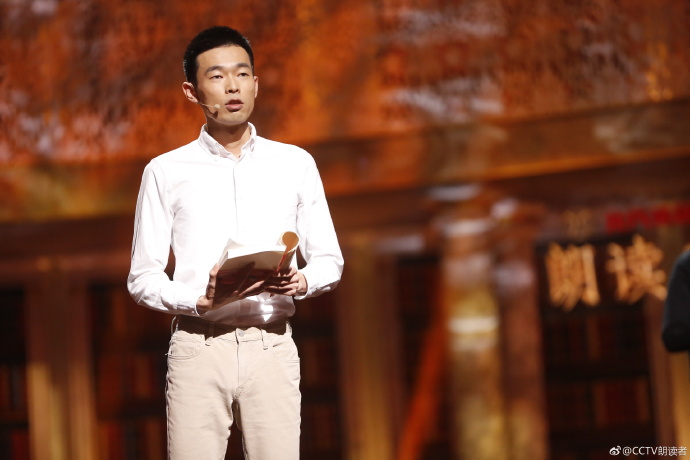 - A scene from The Reader ©CCTV The Reader
In addition to providing food for the thought through literature, The Reader managed to bring such social issues as HIV-infected children care, rural area development and wild animal protection under spotlight by inviting readers devoted to such pertinent causes. For instance, in the second episode titled Accompaniment, a famous actress Jiang Wenli engaged in AIDS prevention for fifteen years read Blossom of a Lily (百合花开) by Lin Qingxuan for AIDS-infected children, wishing their life will beautifully blossom as the lily flower. Meanwhile, she shared an experience when she took an AIDS-infected orphan boy, around seven years old, to the Chinese Aviation Museum. The boy was amazed to find out the existence of the earth and the Universe. This episode did much to highlight the power of an excursion, but how these kinds of trips were not being accessed by this vulnerable group in society. Hopefully, the programme would impose some influence on people's social behaviour and attitudes towards these most concerning social issues.
The Reader is like a resting place where you can savour a cup of literary tea brewed with readers' life stories through reciting, possibly accompanied with moments of reflecting on what took place in the life. The Reader means a lot to Dong Qing, but also to the Chinese audience and, more broadly, to Chinese cultural understanding. The Reader is a process to return to the source, in that although "reciting" is a modern word, it is another form of "reading" and "speaking rooted in Chinese culture", as remarked by Bai Yansong, a famous news commentator. Given the innovative but traditional way of reading, and its cultural and social significance, the show's momentum will sustain and my phone will continue to receive messages on The Reader.
References:
Frost, Robert. (1916). Mountain Interval. Henry Holt and Company
Maugham, W. Somerset. (1919). The Moon and Sixpence. Heinemann
Lu, Yao. (1986). Ordinary World. China Literacy and Art Publication.
Lin, Qingxuan. (2004). Blossom of a Lily. People's Education Press.