Hong Kong: City of Life
First impression
This September I went on holiday to three big Asian cities, the first of which was Hong Kong (香港). I was really excited to go and my anticipation was immediately rewarded when I exited the airplane after an 11-hour flight. The first sight was of forest covered mountains and sunshine. I couldn't help but smile, it was so impressive.
When I stepped out of the subway an hour or so later, I had a completely different experience: I got washed over by a tsunami of people, shopping, talking and checking their mobile phones. I was surrounded by a jungle of department stores, small boutiques, restaurants and food stalls. Everything was so bright, not only because of the sunshine. The buildings, the people: it was like a colour explosion.
Big city, lots of nature
Although Hong Kong is a modern city of millions, there is also a lot of nature to be seen. On my second day there, I went to Hong Kong Park (香港公园), where I saw and heard exotic birds and enjoyed the shade of tropical trees. Right after visiting the park, I took the Peak Tram (山顶缆车) to the top of Victoria Peak (太平山), one of the highest mountains in Hong Kong. The views of Kowloon (九龙半岛) and Hong Kong Island (香港岛) were stunning. You could see dozens of tall buildings and skyscrapers on both sides of Victoria Harbour (维多利亚港), but also a lot of green, the sea, islands and mountains.
Nature and city seemed to seamlessly blend into each other, which I really noticed on my third day. After walking past a big shopping mall, I took an uphill path right through a bamboo grove to reach the Ten Thousand Buddha's Monastery (万佛寺). The view from the monastery was magnificent: a mixture of department stores, buildings and the surrounding green hills of the Sha Tin (沙田) area.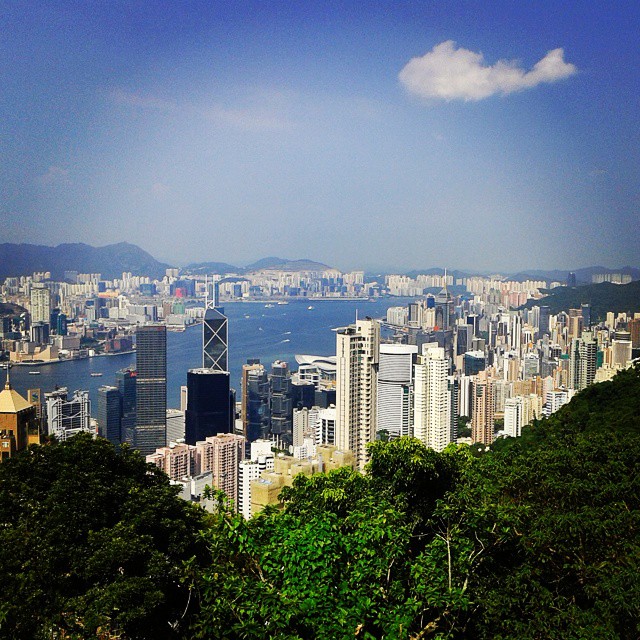 -View from Victoria Peak of Kowloon and Hong Kong Island
Overwhelming experience
The combination of nature and city life is not the only feature which makes Hong Kong so appealing. What I loved about it is that it has just about everything: next to mountains, forests and skyscrapers, there are islands, beaches, fishing villages, giant shopping malls, lively market streets, museums, and the longest covered escalator system in the world.
I did so many things and saw so many places! I laid on the beach at Repulse Bay on the southern side of Hong Kong Island, with on one side an open view of the South China Sea (南海) and on the other a landscape of big hotels. I hopped on a cable car to go see the biggest outdoor Buddha in the world and after that took a tiny bus, swaying over hairpin bends, to the romantic fishing village of Tai O (大澳). There, I took a boat trip to see the famous pink dolphins.
A ferry brought me to the tropical island of Cheung Chau (长洲), where I hired a bike to explore the waterfront. I visited the Cheung Po Tsai pirate cave (张保仔洞) and battled my way through the small streets full of tourists. In the afternoon, it was time for a cold drink at a beach shack offering a brilliant view of the sea and the island.
The amazing Hong Kong Museum of History (香港历史博物馆) was also well worth a visit. The exhibits showcase the entire history of Hong Kong, from 400 million years ago to the colonial age, to the present day. After my cultural visit, I went shopping in the Langham Place (朗豪) shopping mall, and afterwards equally enjoyed wandering through the small market streets filled with tiny shops and market stalls. But riding on the trams – also called 'ding ding' by the locals – was my all-time favourite activity. They are very convenient, as long as you are not in a hurry. You could really see a lot of Hong Kong Island that way… and get windswept hair.
And oh… the food
What I always appreciate about travelling is the opportunity to try all kinds of foods you would never find at home. The great thing about Hong Kong is that not only the city itself, but also the food is exceptionally varied. You could try dishes from about every culture you could think of. Although I ate a lot of western food while I was there, I mostly liked eating Hong Kong bites. I tried pineapple buns (菠萝包); devoured the famous fried fish balls (鱼丸) on Cheung Chau; gained some extra weight eating Hong Kong Style French toast (港式西多士), which is deep fried toast with peanut butter inside, butter on top and lots of honey to top it off; Portuguese egg tarts (葡式蛋挞); steamed buns with red bean paste (豆沙包), and potatoes on a stick. Delicious!
Crowded but lively
Hong Kong is a very lively city, but overwhelmingly crowded at times. At nine o'clock in the evening, thousands of people stroll down the busy streets and shop like their lives depended on it. Sometimes you just had to go with the flow, as it felt like swimming in waves of people. I was staying in Causeway Bay (铜锣湾), one of the busiest shopping areas in Hong Kong, which may have clouded my judgment a little. Of course, the fact that the streets are so packed has something to do with the limited amount of space. Although Hong Kong as a whole is quite big, the city is squeezed between the sea and forested mountains and feels crowded everywhere you go. Most buildings in the urban areas are skyscrapers or tall residential buildings. The city also felt like a 3D maze as I got constantly lost, not only in Hong Kong's labyrinth of streets but also inside the buildings.
Colourful Hong Kong, with its masses of people, shopping malls, lit up towers at night, tropical islands and nature next door, is truly like Jackie Chan (成龙) once said in his 2001 documentary Jackie Chan's Hong Kong: "Hong Kong is the city of life".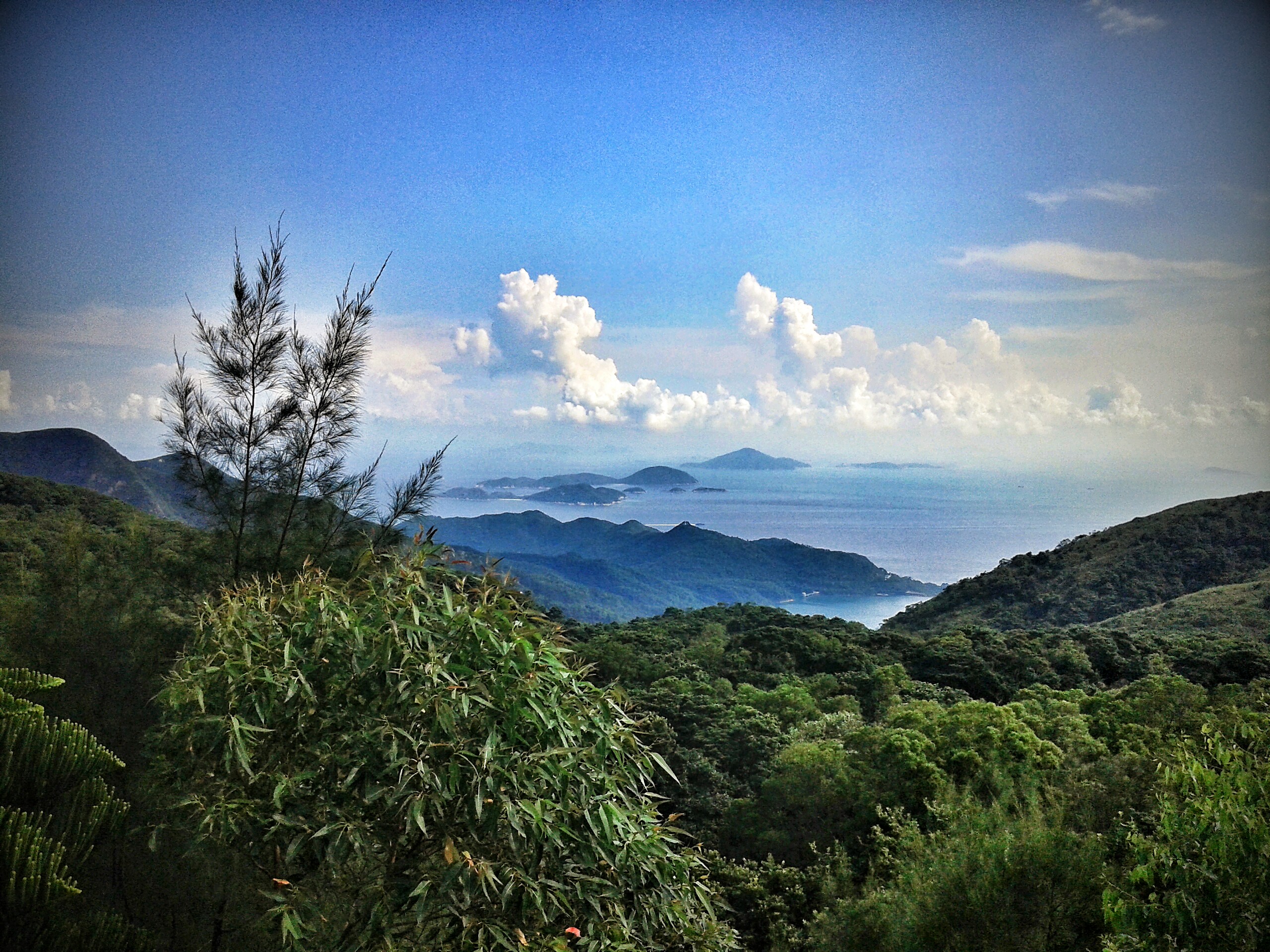 -View from Ngong Ping Plateau