Wechat: A Lifestyle
Nowadays in China, in the streets, in restaurants, subways or parks, people can be seen using mobile phones as walkie-talkies, or constantly sliding and tapping their phone screens. In all likelihood, many of them are probably using WeChat (微信 Wēixìn), one of the hottest instant messaging apps in China. "WeChat is a lifestyle" is the slogan of WeChat. Today, WeChat really has become a lifestyle for many modern people, with more and more people relying on it to communicate.
WeChat is a free mobile application launched by Tencent Technology Company Limited (腾讯控股有限公司 Ténɡxùn Kònɡɡǔ Yǒuxiàn Gōnɡsī) in January 2011.By the end of March 2012, the number of WeChat users exceeded one hundred million. By the end of November 2013, the amount of users surpassed the sixhundredmillion mark, henceforth commanding the largest user group in Asia in the area of instant messaging.
Compared with ordinary cellular text messages, WeChat is a whole other world. WeChat is not only free and sends text messages, but it also transmits voice, video, pictures, a wide variety of emoticons and group chat messages. If users do not want their hands constantly tied to their screen having to type laboriously away just to send a message, then downloading WeChat is the way to go for them. It has considerably more convenient functions that will be able to free your hands from only being able to type. These benefits, however, do not appear to be particularly life changing, but in many subtle ways WeChat has impacted many people's lives. Two Chinese people, Xiao Chen (小陈) and Xiao Li (小李), reveal how WeChat plays a role in their modern lives.
Xiao Chen is an ordinary university student. Every morning, the first thing he does is to check out the 'Moments' of his 'Circle of Friends' (朋友圈 Pénɡyou Quān) on WeChat. He is eager to read some interesting or useful information, as well as share some information. He can do this by reposting 'Moments' from his friends. And he often saves useful information to his 'Favourites'. By leaving 'Comments' or 'Likes' ( 赞 zàn), he can then interact with his friends. Besides looking at what others have posted, he is also anxious to see the 'Comments' or 'Likes' from his friends on the information he shared last night. Along with the popularity of WeChat, the term 'Circle of Friends' has become a hot buzz word in China. Similar to microblogs (微博 Wēibó), text, pictures, shared essays or preferred music can be published. Differing frommicroblogs, the audience is familiar with and trusts each other. That is to say, 'Circle of Friends' has become a reliable source of trusted information from an individual's closest friends. Every member can create a stream of photos journaling daily life, share thoughts, essays and pictures, life experiences, commodity information, music and games. Messages from some friends in the circle can also be forwarded. Lots of useful information is broadcasted from one circle to another. WeChat has become one of the better means in interpersonal communication because of its high credibility and high efficiency.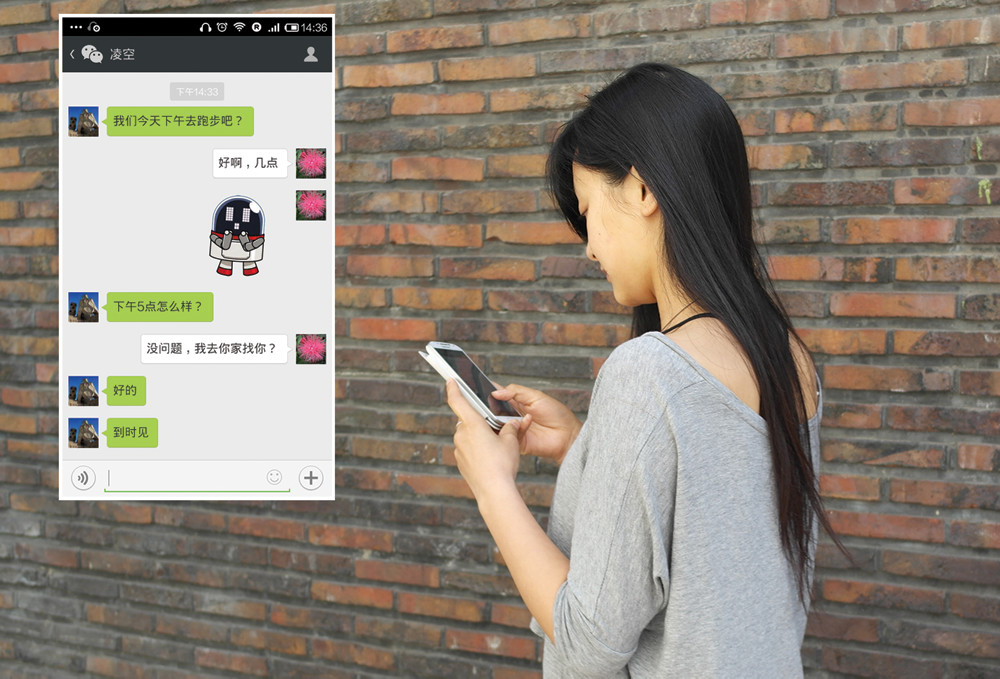 Xiao Chen's WeChat also has many chat groups, such as his Class Group, an Elective Course Group, and, as a member of a student association, he is also a member of the Association's Group. In his Class Group, he can communicate with the class and share information on in-class activities with classmates. Through the Elective Course Group, students from different subject areas or classes can discuss homework, and the teacher can share some useful articles; or recommend books, audio or video files. In the Student Association Group, students can communicate progress on their work with each other. Group Chat gives great convenience for communication of individuals from different social Groups.
In addition, Xiao Chen also gets a lot of useful information from his university's WeChat Public Platform (微信公共平台 Wēixìn Gōnɡɡònɡ Pínɡtái). A Public Platform is a platform for government, media, enterprises, individuals and other organizations to improve as an extension of service. The focus of these platforms is to provide useful information users are interested in, and these platforms will regularly publicise text, pictures or voice messages. Users can share some messages that they like in their 'Circle of Friends'. Any friend who is interested in that particular public platform can add it to their focus list. This is how platforms gather more and more followers. The Public Platform is a very important feature of WeChat. Nearly every user follows several Public Platforms. For example, The Communication University of China (中国传媒大学 Zhōnɡɡuó Chuánméi Dàxué) (CUC) has many platforms for students' services. Xiao Chen follows the Platform of CUC Comprehensive Service Hall. He can get information about his school's calendar, tuition, transcripts, examination arrangements, classroom management and employment information. This is more efficient than a website or advertisement on a wall. Another platform of CUC which also gives Xiao Chen quite a bit of help is called Lecture Published. It constantly publishes information about important lectures, ensuring that he no longer misses valuable lectures. Another platform that is also very important for him is Campus Life. It informs the user about places that offer fine dining or places that offer take out, along with many other convenient life services. This particular Public Platform has greatly improved the quality and convenience of his life. This is just an example, the Public Platform is not only used by universities and some departments; it is also being used in various other fields.
Nowadays, more and more merchants regard WeChat as a new marketing tool, and will set up a Public Platform. There are millions of Public Platforms currently in existence, including ones for the government, the media, enterprises, famous people or just common individuals. CCTV News Center, China Unicom (中国联通 Zhōngguó Liántōng) of Guangdong, Merchant Bank (商业银行 Shāngyè Yínháng), China Southern Airlines (中国南方航空公司 Zhōngguó Nánfāng Hángkōng Gōngsī) are just a select number of examples. Xiao Li is a business manager of a bond investment company. For her, WeChat plays quite a vital role in her life. Many of her friends in her 'Circle of Friends' are in the financial industry and they often share professional financial analysis articles with each other. She can make full use of her spare time by reading articles that she knows are reliable and reputable. She also pays attention to WeChat's financial functions, such as WeChat LiCaiTong (微信理财通) (a financial managing tool) that Tencent offers in cooperation with other financial companies. This particular financial function is a great example of WeChat cooperating and working with other third party companies and institutions in order to create a new tool for its users. This is a highly convenient function for users to use because it allows for them to bind their bank card to this financial tool. As a result,a managing function for their money exists alongside a payment function for products and services. Xiao Li makes full use of this tool and its functions during the course of her working life.
Another app that is equally useful to XiaoLi is DIDITaxi (嘀嘀打车 Dīdī Dǎchē), an App for voice calling a taxi; it is a useful tool for when you need to go somewhere urgently. The user tells the location and destination of where they are and where they want to go. Any taxi driver nearby with this app will receive the message and the driver who would like to take the offer will call her. Payment can also easily be completed through WeChat. This service is increasingly popular in some big cities these days and many times a discount will be given if the payment is through WeChat. This is incredibly convenient and cheap for its users. WeChat has become a new kind of mobile wallet.
The Scan QR Code (扫一扫 Sǎo Yi Sǎo) is also a very important function of WeChat. One time Xiao Li went to a car wash where they offered a promotion activity. By scanning the activity's QR code and following their public platform, she was able to get a free car wash. Other times if you share promotion information in your 'Circle of Friends', you can get a free product. As a young modern person, XiaoLi likes shopping, and more and more shopping malls have their own public platforms with QR codes. Xiao Li follows several shopping malls she likes, and can get a lot of promotion information; this gives her more help on her shopping wants. Nowadays, the Scan QR code function is becoming more prevalent. Not only can QR codes be scanned, but barcodes, and even words can be scanned and translated.
With the development of WeChat technology, its use can be extended in many ways. The Public Platform can be a good instrument for garnering public awareness and support due to the fact that there are over 600 million users on WeChat which is a huge advantage of WeChat. For a comparison illustration, microblogs is like a person giving a speech to hundreds of people, and then waiting for the information to spread. While WeChat is more like a group of good friends surrounded in a room of mutual companions all actively discussing with one another their interests and hobbies, it is more personal and in-depth. WeChat can be used on iPhone, Android, WindowsPhone, Symbian, and BlackBerry, to support cross communication. The information in a 'Circle of Friends' can be shared with not only one another, but friends can also share on Tencent microblogs whilst foreign users can share on Facebook.
WeChat now can support more than one hundred countries' mobile phone numbers. Not only Chinese like Xiao Chen and Xiao Li, but also users from other countries, like Mary or Mike, are enjoying the WeChat life. WeChat is steadily garnering more international users, and its positive impact has now steeped deeper into the daily lives of all those who are using it. WeChat really is becoming a lifestyle.