Chinese Vlogger Li Ziqi: The Creator of your Ideal Life
1600 years ago, Chinese poet Tao Yuanming (陶渊明) created a delicate yet unnatural utopia in his writing in which a group of villagers lived a self-sufficient, harmonious life for centuries in a blossoming land full of peach trees, fully isolated from the outside world, no matter whether it is in stability or turmoil. Today, vlogger Li Ziqi (李子柒) records her own idyllic rural life in her hometown of Mianyang, Sichuan, where she creates homemade food, furniture, clothes and handicrafts – and online content – from scratch. For thousands of years, Chinese people's yearning for a haven of peace and tranquillity has never changed, and many people living in the modern world still miss and revere the pastoral life presented in Li's videos.
Her original idea of creating videos was taken from her experience of running an online shop of agricultural products from her hometown. Intending to direct internet traffic and increase sales, she started to post cooking vlogs on a platform called Meipai (美拍) in 2015. Gradually, Li Ziqi's unique filming style was refined. Set against beautiful natural scenery, she offers a view into her busy days growing fruits and vegetables, preparing food or making handicrafts, accompanied always by calming background music with barely a word spoken. No subtitles, no English translation – the only words on the screen tell the year, season and the ingredients Li is using.
Li's filming style is simplistic and hugely successful. Her videos are full of simple yet beautiful elements: misty mountains, placid lakes, starry skies, growing crops and napping dogs. The sound and colours of nature and the traditional farming lifestyle make watching her videos a soothing and peaceful experience for viewers both at home and abroad. She uploaded them to YouTube in 2017 and recently became the holder of Guinness World Records for 'Most subscribers for a Chinese-language channel on YouTube' in January 2021 with 14.1 million followers (Guinness World Records, 2021). The answer to why she is so appreciated in China and beyond can be found in her cooking and handicraft videos.
Li's videos contain rich, new content with food preparation being the main theme. Her typical cooking vlogs normally start from her scattering seeds into the soil and tending to them until harvest. She records the whole growing process of various fruits, flowers and vegetables before turning them into tasty dishes. One type of ingredient is usually cooked in several ways. Take, for instance, the tomato: as well as eating tomatoes raw, Li has also made jams from cherry tomatoes boiled with sugar; has created a cold tomato dish with self-made plum alcohol; and has cooked a thick tomato soup base for hot pot before adding a variety of homemade meatballs and other vegetables. Her videos with varied ingredients and cooking skills leave her viewers' mouths watering and bellies rumbling.
Source: Liziqi YouTube channel
People take to Li Ziqi not only because of her cooking skills but also because of her strong, hands-on abilities and creativity. From daily necessities to household items, everything she uses seems to be homemade. She has created a set of makeup from rose petals; she has used grape skin to dye a piece of cloth purple and made it into a dress; she has built an animal-shaped clay oven with two ears functioning as chimneys; she has even made a variety of bamboo products ranging from small items such as vases, tissue boxes and soap bar containers to big pieces of furniture such as a sofa, an armchair and a coffee table. Watching her handicraft video items, viewers never cease to be amazed by what she can do with her creative mind and nimble fingers. She seems to have a magic touch that turns common materials and even unwanted waste into a useful item or a fine piece of art.
Source: Liziqi YouTube channel
Featuring heavily in her handicraft videos are elements of Chinese intangible cultural heritage such as moveable type printing (活字印刷术) invented in ancient times. Li Ziqi engraved individual Chinese characters on woodblocks before placing them in order on a board for printing. Taking the paper from the board, she displayed a letter to the audience under the lens, in which she shared her childhood memory of wild cranes, brewing liquor and white porridge made by her grandmother. Lastly, she tied the letter to a carrier pigeon and set her off to fly. The woodblock printing video transports us back to old times when thoughts and feelings were expressed in the meticulous arrangement of letter blocks and time-consuming printing work.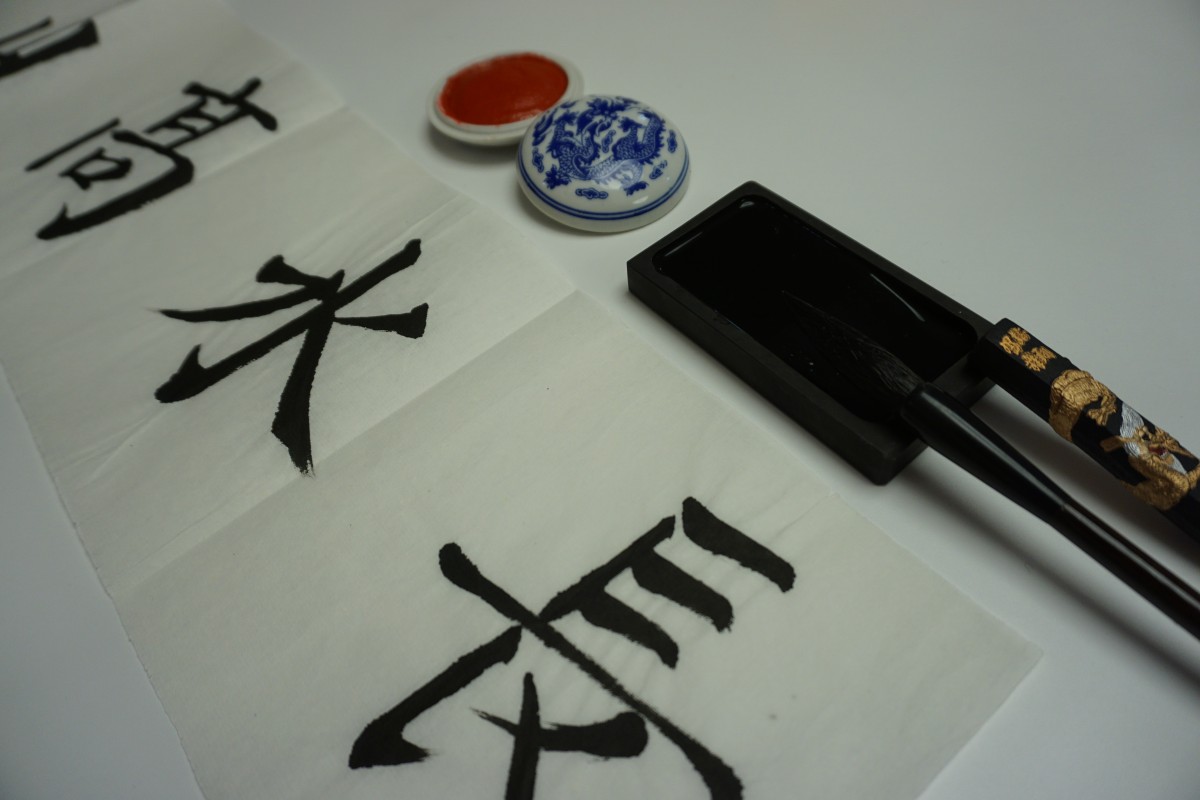 Four Treasures of the Study © Xinyi He
As well as traditional printing technology, Li Ziqi also demonstrated in her videos the beauty of Shu embroidery (蜀绣) and the Four Treasures of the Study (文房四宝) (writing brush, ink, paper and ink stone). She reintroduces valuable Chinese traditions to both domestic and foreign viewers, arousing their interest in Chinese history and culture. No wonder people say she is a cultural exporter who makes people fall in love with China, regardless of their identity and background.
In addition to being so enjoyable and relaxing to watch, Li's videos are full of touching moments. An elderly lady always shows up in the videos, who we know to be Li's grandmother – the most important person to her. Upon learning that her grandmother was seriously ill in 2012, Li decided without hesitation to give up her city life and go back home to look after her. Li's videos share many affectionate interactions with her grandmother. They bathe their feet together in hot ginger water after dinner, and Li taught her grandmother the finger heart gesture, something that so popular online. Their ordinary yet warm interactions are a great comfort to people living alone in big cities, often reminding us how precious it is to have family around.
Source: Liziqi YouTube channel
Undoubtedly, Li Ziqi is one of few Chinese vloggers making an impact both domestically and overseas. The secluded and peaceful country life she records is so different from the fast-paced and frantic urban life that most people live nowadays. In a society full of advanced technology and inventions that make everything faster and more convenient, there is a danger of being too easily caught up in the chase for efficiency and forgetting to appreciate the world around us. The videos Li creates reactivate our yearning and appreciation for the ancient times when we relied on the relationship between nature and ourselves. She took a step back and returned to the original and traditional life – the romantic life that most people have lost but dream of regaining some day.
The contents of Li's videos are more or less familiar to Chinese viewers and exotic to foreigners, but this does not affect their love for Li. A member of her wide foreign audience points out that Li's videos allow them to see China from a perspective that was rarely shown before(YouTube, 2019a). International viewers could easily read news about Chinese technology or innovation such as the high-speed trains or 5G, but they seldom have the opportunity to explore conventional rural life in China. That is why when offered a new angle to perceive the diverse and distinctive culture of the country, they are astounded.
While achieving great popularity, Li is faced with criticism. Some people are sceptical about the authenticity of the country life shown in the videos as they reckon the real farming life cannot be as easy as she demonstrates. However, Li said in an interview that she is just filming her life, or the life she wants (YouTube, 2019b). She hopes to show the positive and relaxing side of life in videos and take away people's anxiety and stress at the end of a busy day. She has used her own power to bring the pastoral life that only existed in literature into our visual reality, providing great comfort and enjoyment to millions.
References:
Guinness World Records (2021). Most subscribers for a Chinese language channel on YouTube. Retrieved December 19, 2021, from https://www.guinnessworldrecords.com/world-records/622868-most-subscribers-for-a-chinese-language-channel-on-youtube
YouTube (2019a). Why are there so many foreign audience loving Li Ziqi? [为什么有这么多外国人喜欢李子柒?]. [Video]. Retrieved December 19, 2021, from https://www.youtube.com/watch?v=bnRdHSpYy00&t=149s
YouTube (2019b). Li Ziqi's Interview. [ 李子柒采访、专访]. [Video]. Retrieved December 19, 2021, from
https://www.youtube.com/watch?v=qrEzVL7h40g