The Treasure Behind Taobao
If you have just arrived in China, it is hard not to notice the profusion of delivery buses and bikes riding through the streets. You might wonder why there are so many and what goods they carry. As people are getting more accustomed to purchase their smallest necessities through online shopping, this inevitably links to a proliferation of delivery vehicles worldwide. If there is one person to thank for this development in China, it has to be business magnate Jack Ma, founder and CEO of the Alibaba Group. As head of the online giant, Ma is arguably one of the prime architects of China's new modern economy and a true innovator on the global stage. Alibaba started out as a small B2B (business-to-business) company in 1999, helping small and medium enterprises sell their products through the internet (Sun, 2015), but its popularity really took off by launching the C2C (customer-to-customer) spin-off Taobao in 2003.

- The delivery man and the online buyer ©Li Yuhui
Taobao, literally: treasure hunt, was founded as an attempt to compete with the arrival of eBay in China and allow people to discover their treasure online in the eCommerce cove (Greeven, Yang, Yue, van Heck, & Krug, 2012). Initially a small David startup taking on the big Goliath eBay, Taobao Marketplace is today the largest C2C (consumer-to-consumer) and B2C (business-to-consumer) eCommerce online platform in China. The total value of goods sold on the platform, or Taobao's gross merchandising volume (GMV), in 2016 reached RMB 3,767 billion [USD$547 billion] . To put this amount into perspective, the GMV of comparable multinationals was USD$84 billion for eBay [2016] , and USD$256 billion for Amazon [2015] .
Why is Taobao Marketplace so successful?
Starting an online marketplace is by no means a small venture or even a unique concept in itself. So what has driven Taobao and its parent company Alibaba Group to become such a successful company? Greeven et al. (2012) argue that this is mainly because of the strategy chosen by Taobao, which comprise the following factors:
The free listings on their platform, which allows consumers to sell their products without any further charges. Sun (2015) states that the free component is a key characteristic for the Chinese market in response to China's income inequality. In less developed areas, a service might be very expensive in comparison to the average income.
The focus on Chinese culture and Chinese characteristics of products, to promote national and trustworthy products. Yoon (2009) confirms the importance of adapting the eCommerce environment to the culture, especially in a country with 'long-term orientation' like China, where the cultural value of trust is crucial (Yoon, 2009). Most eCommerce users in China have a high regard and preference for Chinese technology platforms (Leong, Pan, Newell, & Cui, 2016).
Emphasis on innovation in streamlining the purchase process, for example, by introducing Alipay in 2004, to provide an online payment service at a time when debit card and credit cards were scarcely used. It partnered with the main China banks, as well as China Post to allow people without bank accounts to store money online on their Alipay accounts.
This streamlined process is particularly important for China, given that the mobile phone is the most possessed electronic device, as 95.9% of Chinese people have a mobile phone, where the most important factor for the acceptance of mobile eCommerce is the compatibility between the payment provider and eCommerce environment (Batkovic & Batkovic, 2015). Hence, the growth of Taobao is entwined with the adoption rate of the mobile phone as a transaction device.
- Mobile shopping with Taobao ©GCI
It appears that Taobao is quite successful with their mobile platform, since in their fiscal year of 2016, 79% of the GMV of Alibaba was generated through mobile purchases.
These factors and strategic developments have propelled Taobao Marketplace as a website where people can buy whatever they want, from clothes and electronics to fresh daily products like groceries. If you look at the total gross value of all these goods sold on Taobao in comparison with Amazon and eBay, it is not difficult to understand that a big company such as Taobao has greatly reformed the lifestyle, shopping behaviour as well as the day to day life of Chinese people.
Transition to a new economy
The success that comes with the technological developments of eCommerce has a drastic footprint on a country's economy. These digital transformations might have pros and cons, but overall they offer new possibilities for enhancing economic growth (Woetzel et al., 2014). This does involve job reforms, where standard 'brick-and-mortar' retail jobs (in physical stores) are partly being replaced by online technology. Furthermore, eCommerce tends to increase the already strong trend of urbanisation in China, since eCommerce companies are often large organisations attracting people from smaller areas to work in big cities.
Taobao Villages
To counteract the massive urbanisation process, Taobao was paradoxically able to empower remote villages in rural China with eCommerce technology and connect them to this eCommerce ecosystem without relying on government aid. This has been achieved through the concept of 'Taobao Villages'.
The first village to become such a Tabao Village was Shaji Town in the Jiangsu Province, where in 2007 the first ten companies transitioned from agricultural work to the business of producing furniture and selling their goods online (Chen, 2016). This first success in Shaji set an example for the rest of the village and ten years later (in 2016) there are already 15.000 businesses in Shaji Town active on Taobao. These villages are supported by Taobao in setting up online stores, through free eCommerce training and marketing strategies. At least 10% of the residents currently operate online stores, generating at least 10 million RMB in annual sales (Leong, Pan, Newell, & Cui, 2016). According to China Daily, there already have been created 840,000 job opportunities by the start of 2017 .

Figure 1 : Ability of Information Communication Technology to enhance rural development (Leong et al., 2016)
Taobao Villages offer rural villages several advantages, of which the main benefits are defined in the three development phases of new eCommerce ecosystems (Figure 1). The livelihoods of residents of these rural villages have greatly improved as they engaged in eCommerce and took advantage of the new economic trends occurring across China. Taobao Villages injected self-reliance, awareness and confidence in rural areas giving them the ability to determine their own future instead of relying on traditional aid. Since the start of the project in 2003, there were already more than 700 Taobao Villages (in 2015), which also have been lifted out of poverty, as visible in Figure 2.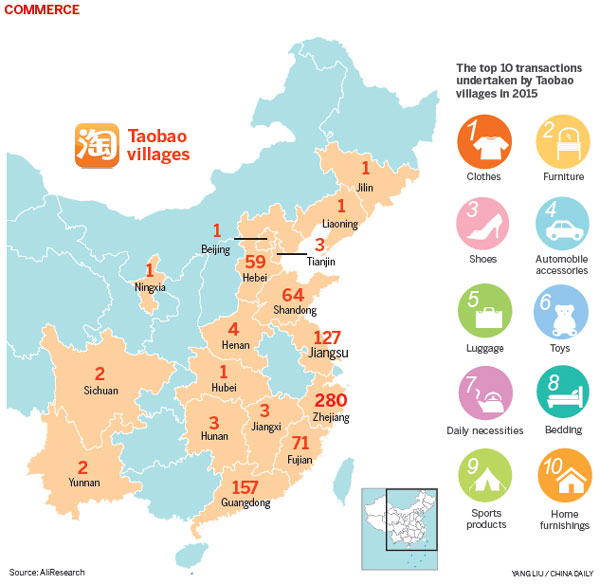 Figure 2: The spread of China Villages in 2015 and the main product categories [L. Yang, 2015] Infograph by China Daily, Yang Liu (2015)
Taobao Village as incubator of regional development
These Taobao Villages also act as an innovator and stimulate the development of a whole region, since Taobao does not only provide the necessary eCommerce infrastructure to the village itself, but also to other nearby villages, encouraging them to take part in this development. Taobao identifies these areas as 'Taobao Village Clusters' (C. Liang, Zhenzhong, Ruidong, & Zhengwei, 2015).
Furthermore, the success of these villages attracted local, provincial and national government officials to visit these towns. The visits and encouragements signal a governmental support of public entrepreneurship and inspire people to achieve similar success (C. Liang et al., 2015).
Taking eCommerce offline
At first, eCommerce had a big impact on brick-and-mortar stores, pushing many to close. However, eCommerce has recently made a reverse development by introducing physical stores as an extension of their online platform. For example, Amazon is using their physical stores in the United States to promote their online services in addition to selling books (McCarthy, 2017). Alibaba took this a step further, with their cashier-less Tao Café concept.
With Tao Café, Alibaba merges the physical stores and eCommerce stores into a single environment, where every product is also a digital product. You can visit the store, where picking up a product is like putting it in your shopping basket, and walking out of the door automatically makes you 'check-out', by paying online for your product with Alipay. This makes it possible to always buy your products at any time without any human interaction (Y. Liang, 2017). To watch it all in action, you can take a look here.
The integration of an online and offline retail business model is the latest development by Jack Ma's Alibaba Group that transformed the landscape of Chinese economy. It only makes us wonder what else lies ahead, and how such disruptive companies can improve our quality of life.
References
Batkovic, I., & Batkovic, R. (2015). Understanding Consumer Acceptance of Mobile-Retail. (Master Degree in Marketing and Consumption), University of Gothenburg, Gothenburg. Retrieved from https://gupea.ub.gu.se/bitstream/2077/39846/1/gupea_2077_39846_1.pdf
Chen, Z. Y. (2016). Story of Shaji: The First Taobao Village and the 10 year road. Retrieved from http://tech.sina.com.cn/i/2016-11-16/doc-ifxxsmif3190210.shtml
Greeven, M., Yang, S., Yue, T., van Heck, E., & Krug, B. (2012). How Taobao bested Ebay in China. Financial Times.
Leong, C. M. L., Pan, S.-L., Newell, S., & Cui, L. (2016). The Emergence of Self-Organizing E-Commerce Ecosystems in Remote Villages of China: A Tale of Digital Empowerment for Rural Development. MIS Quarterly, 40(2), 475-484.
Liang, C., Zhenzhong, S., Ruidong, Z., & Zhengwei, J. (2015). Research Report on China's Taobao Villages. Retrieved from http://i.aliresearch.com/img/20160126/20160126155201.pdf
Liang, Y. (2017). China Focus: Alibaba's self-service Tao Cafe takes e-shopping offline. Retrieved from http://news.xinhuanet.com/english/2017-07/11/c_136434967.htm
McCarthy, T. (2017). Amazon's first New York bookstore blends tradition with technology. Retrieved from https://www.theguardian.com/technology/2017/may/26/amazon-new-york-bookstore