Harbin: The Harmony of Diversity
Located in Northeast China, Harbin(哈尔滨 Hā'ěrbīn) is called 'the bright pearl on the bridge of Eurasia land' or 'the pearl on the swan's neck'. With its long winter and snow and ice-related activities, it is also known as the 'Ice City'; and its architecture conjures up the names 'Oriental Moscow' or 'Oriental Paris'. Harbin has earned all of these names, not least because the city perfectly integrates the Orient and the Occident, the classic and the modern, calmness and vitality.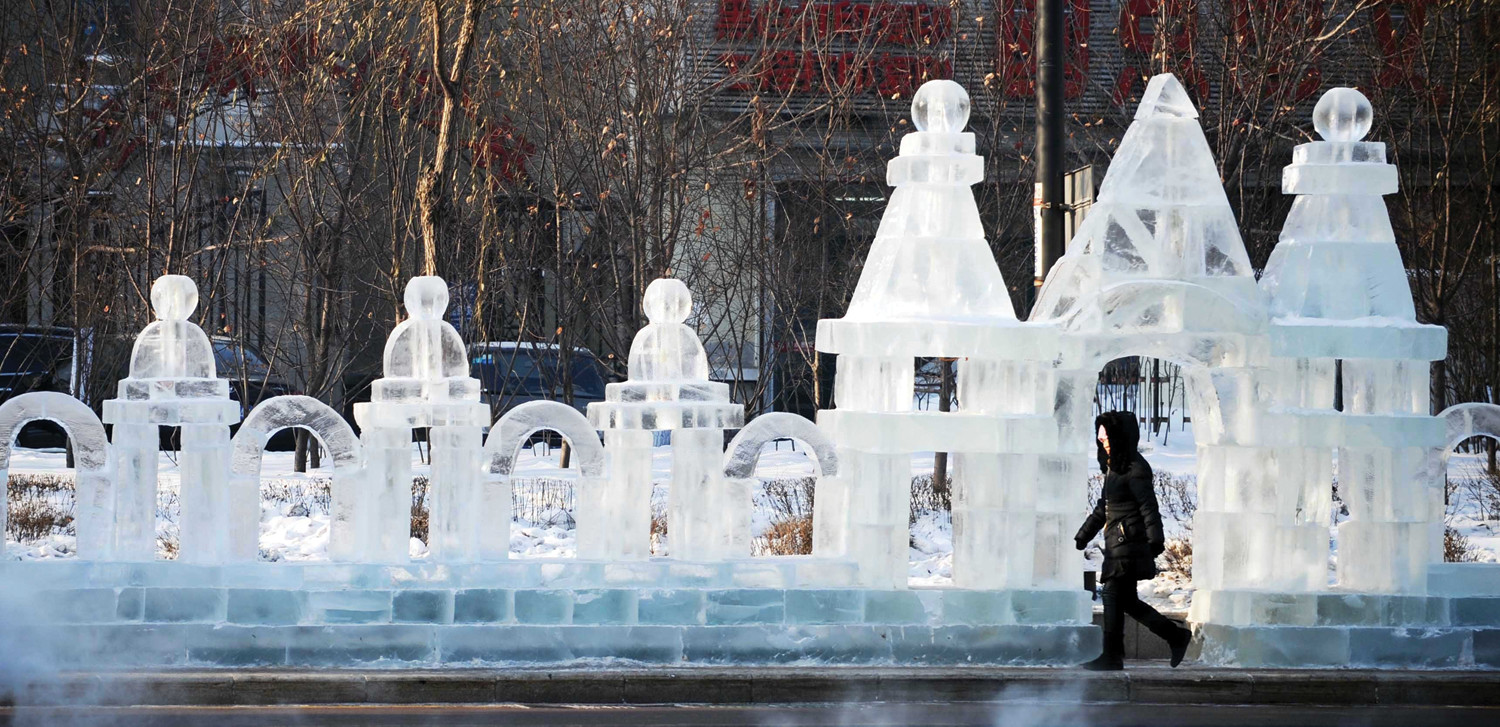 Copyright: Xinhua
The name Harbin sounds more foreign rather than Chinese: it comes from the Manchu (满 族 Măn Zú) word for 'flat'. The first signs of human activity in the area appeared 22,000 years ago, and the history of the city can be traced back to 800 years ago when the Jin Dynasty (金朝 1115-1234) was established, later followed by the Qing Dynasty (清朝 1644-1911). Today, 47 ethnic minorities live in the city, of which the Manchu population is the largest group. Harbin was the birthplace of ethnic minorities, but later it turned out to be location with the largest Han (汉) majority. Integrating different ethnical cultures, Harbin formed its own unique characteristics. The city's character was reinforced by Russia's construction of the Middle East Railway junction centre in late 19th century, which facilitated relatively large-scale immigration: more than 160,000 foreigners from 33 countries moved to Harbin, promoting the development of a market-oriented economy and diverse city culture.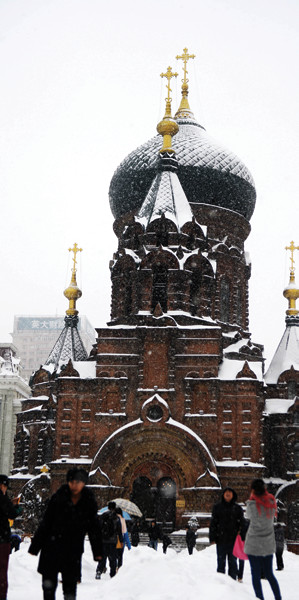 Copyright: Xinhua
Harbin created its unique and exotic cityscape through assimilating external culture, and through its vivid representation of being a 'united nation of religions'. Travelling through the city, the visitor can expect to see the Orthodox Eastern Saint-Sophia Church (圣·索菲亚大教堂) in the Dao Li District (道里区 Dàolǐ Qū), the Chinese monastery Ji Le Temple (极乐寺), a Christian Church and a Harbin Confucian Temple in the Nan Gang District (南岗区 Nángăng Qū), and a Harbin Great Mosque in the Dao Wai District (道外区 Dàowài Qū). These religious institutions not only present the distinctive architecture of Baroque, Byzantine, Gothic, classical Chinese and Muslim buildings; but these building are also the very expression of these very diverse religious cultures. Buddhism was introduced in Harbin during the Jin Xi Zong period (金熙宗 1119-1150); Taoism spread through Harbin about 800 years ago; Islam appeared in the Qing Qian Long time (乾隆 1711-1799); Christianity came in the mid- 19th and Catholicism in the late 19th century; and lastly Orthodoxy was introduced in Harbin in the early 20th century. Harbin and its residents hold very tolerant views of different religions; there is little evidence of conflict along religious lines in the city.
Harbin has eight administrative districts, and Nan Gang, Dao Li and Dao Wai are representatives. Dao Wai District is where the old town is located, and it is the ideal venue to find the most native and indigenous flavours of Harbin. It is said that a family named Tian (田) moved to this area in about 1805 and founded a winery there, after which, in about 1900, a family named Fu (傅) came to set up a caravanserai, and the city has spread out from that. Today, the tradition of living on craftsmanship and small business is still carried on in Dao Wai District. The best example of this industrious and vibrant lifestyle can be found in the third North Street Bazaar (北三市场 Běi Sān Shìchăng). This market place satisfies almost all of the people's daily needs from food stands and drapers' shops, to public baths and theatres. Similar market places and local communities help to preserve the relatively simple and easy life in Dao Wai District.
The Dao Li and Nan Gang districts tell a totally different story. Being the centres for city administration, finance, commerce, education and entertainment, the two districts share a similar upmarket character of fashion, and
the hustle and bustle of a metropolitan culture. Central Street (中央大街 Zhōngyāng Dàjiē) is the landmark of the Dao Li District. It was originally built in 1898 under the name 'Chinese Street' and then renamed to Central Street, although local people prefer to call it 'Stone Street' since it is covered by precious built-in square stones. Now, the 22-metre-wide, 1450-metre-long street is for pedestrians, thereby protecting the roadbed as well as the historical and cultural buildings, mostly shops and restaurants that flank the two sides.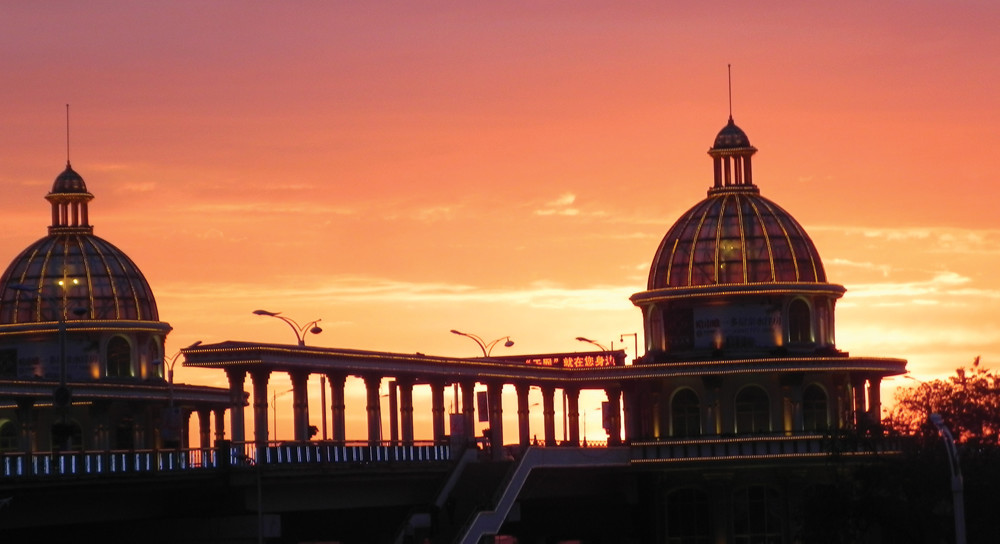 Copyright: Teng Fei (腾飞)
Dao Li District has the most beautiful natural scenery in Harbin, which is found along the Songhua River (松花江). Three joint parks on the south side of the river form the longest park region in China. On the north side of the river, the Sun Island (太阳岛 Tàiyáng Dăo) - named after its shape - has been developed into a tourist zone, which is unique as it is the only riverside wet grassland ecology in a central city in the whole of China. People can access it either by crossing one of the three bridges or by taking a river cruise. In 1980, the popular song On the Sun Island spread the name of Sun Island far and wide and made it the pride of the locals and a popular tourist attraction for visitors. The river sides are ideal places for sightseeing, boating, fishing, swimming as well as picnicking.
Harbin has a diverse and rich dining culture. Harbin cuisine is strong and rich in both taste and colour. The tradition of ancient local nomadic food mingled with the influence of modern imported European dishes combines to form Harbin's famous culinary characteristic of 'appearing beautiful in being sincere, containing quintessence in being rough'. Harbin dishes predominantly contain Chinese northeastern flavours, typified by heavy sauce, deep-fry and mixed stew. The most popular dishes include Guo Bao Rou (锅包肉) (a form of sweet and sour deep fried pork), Eight Hearty Stews (八大炖 Bā Dà Dùn) (eight dishes of stewed meet and vegetables, including chicken braised with mushroom, stewed spare-ribs with green-been, braised pork with vermicelli, braised catfish with eggplant, stewed fresh fish De Mo Li style) and Fried Pork with Pickle and Vermicelli (猪肉酸菜炖粉条 Zhūròu Suāncài Dùn Fěntiáo).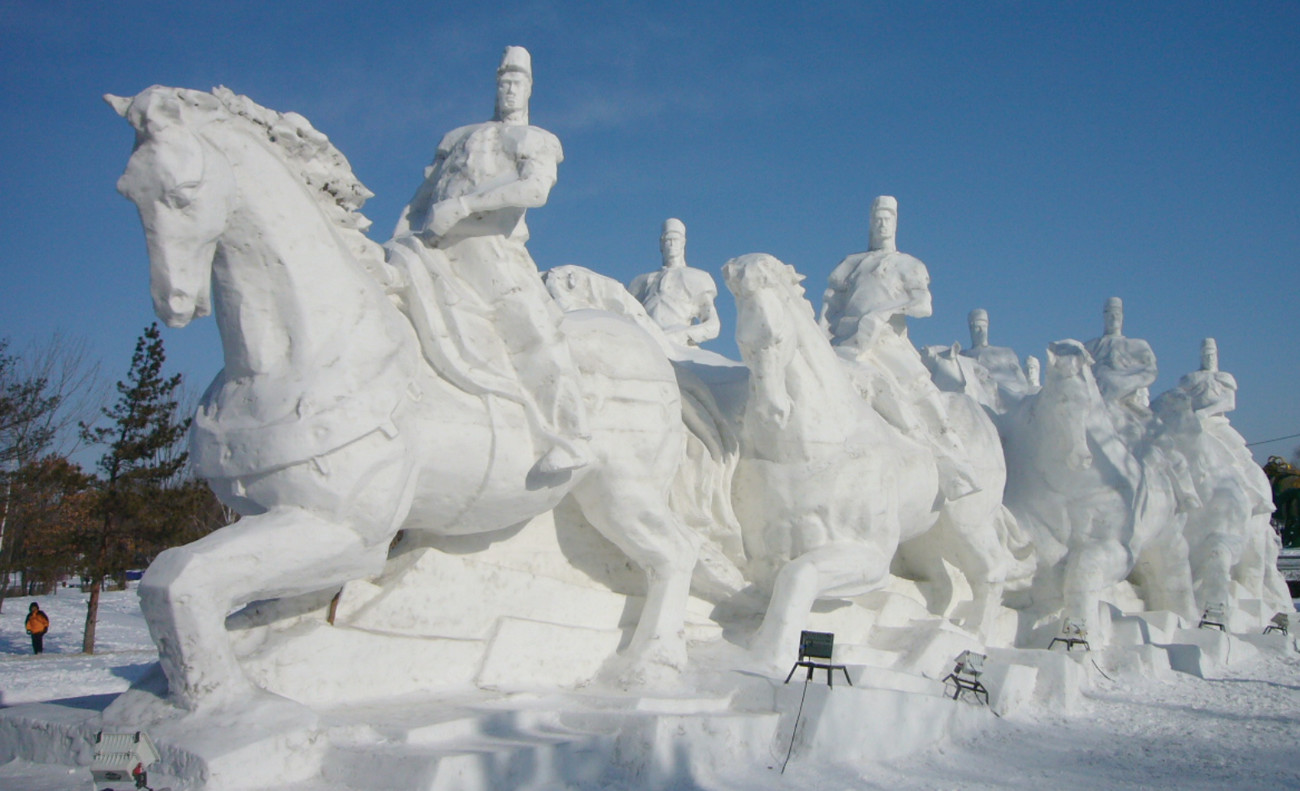 Besides traditional Harbin food, Western style food is also popular in the city. Walking along Central Street, the long queues waiting at the authentic Russian-style restaurants will definitely draw in the visitor's attention: it seems Harbin people never get tired of Hua Mei's (华梅) borsch and Madieer's ice cream (马迭尔冰棍儿). There are two reputable bakery shops in Harbin: one is Lao Ding Feng (老鼎峰) in Dao Wai District, famous for cakes mixed with Chinese and Muslim characters. The other is Qiu Lin (秋林) in Nan Gang District, well known for its sour and chewy big bread Palestine (大列巴 Dà Liěba), weighing 2.5 kilograms each. Tourists find Harbin's main specialty particularly interesting: smoked savory red sausage (红肠 Hóngcháng), famous for its European flavours. Visitors' stomachs are never disappointed in Harbin.
Seasonal activities cultivated art and culture in Harbin. Harbin has four distinct seasons, and the activities in both summer and winter are world famous. Harbin was recognised as a 'Music City' by UNESCO in 2010 not only because China's oldest symphony orchestra and first music school were both established in Harbin, but also because it has hosted the Harbin Summer Music Concert (哈尔滨之夏音乐会) every two years since 1958, assembling artists from all over the world. Ice and snow are natural gifts to Harbin, and the city uses them to its fullest advantage. From December to March, the whole city is decorated by various styles of ice and snow sculptures. The annual Harbin International Ice and Snow Sculpture Festival, started in 19852, is one of the four worldwide ice and snow festivals along with the Sapporo Snow Festival in Japan, Quebec City Winter Carnival in Canada and the Ski Festival in Norway.
Ice lanterns and snow sculptures are predominant at the Harbin International Ice and Snow Sculpture Festival. The ice lantern in Harbin can be dated back to when fishermen used ice and candles for lighting. In the early 1960s, Harbin ice lanterns developed into a form of art, which uses gardening skills, architecture technologies, sculpture techniques and lightening equipment. Ice lanterns are colourful and bright at night, making Harbin a fairyland at winter nights. The Ice Lantern Fair in Zhao Lin Park, which is part of the Harbin International Ice and Snow Sculpture Festival (哈尔滨国际冰雪节), attracts domestic and international tourists every year.
Harbin is a city with multiple cultural origins and influences. It adopted the cultures in a way like separating the wheat from the chaff, and united them to make something with Harbin characteristics. Harbin is not a city to be glanced at over a couple of hours, its sheer diversity, plurality and richness make it a place of experience, enjoyment and enlightenment for endless reasons.