Chinese Painting: A Glimpse of Ancient Life
The exhibition Revisiting Ancient Chinese Painting and Calligraphy organised by the Groningen Confucius Institute in The Hague in 2018 has elicited great interest and attention among the Dutch public for Chinese Painting, Chinese Calligraphy and Chinese Porcelain Carving. It not only displayed Chinese art in diverse forms, but also created a dialogue between East and West, thus deepening mutual understanding of each other's culture.
We believe that it is valuable to share the collection of works with our readers, for you can capture the beauty and charm of the artistic creations and draw inspiration from the unfading wisdom of ancient Chinese philosophers.
Chinese Painting: A Glimpse of Ancient Life
Collection of Chinese Paintings
Below are recreated masterpieces of Chinese paintings from the Song and Tang dynasties by renowned Chinese artist Zhang Huirong, through which you can observe everyday life scenes and experience the sentiments from a bygone era and appreciate landscapes and portraits in stunning detail.
Painter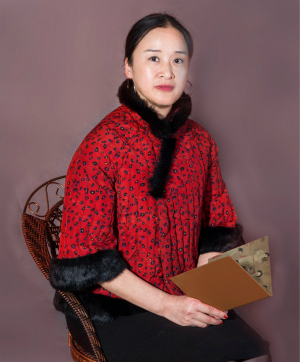 Zhang Huirong(1965 -) graduated from the Department of Fine Arts of Fujian Institute of Education. Renowned for recreating masterpieces of ancient Chinese paintings, she is hailed as the best artist to simulate ancient paintings among the Chinese art community. Her reproduction in the size of the original scroll paintings the Night Revels of Han Xizai by Gu Hongzhong of the Five Dynasties and Along the River During the Qingming Festivals by Zhang Zeduan of the Song Dynasty are rare treasures of great historical, cultural and art value. Zhang Huirong has won numerous awards and between 2015 and 2017, her works have been exhibited in the US, the UK and other countries.
- Along the River during the Qingming Festival by Zhang Zeduan, Northern Song Dynasty, handscroll, colour on silk, 24.8 x 528.7cm, in the collection of the Palace Museum of Beijing. Recreated work by Zhang Huirong
It is the most renowned piece of genre painting in the history of China's fine arts, delineating the metropolitan life on both sides of the Bianhe river in the Northern Song capital Kaifeng during the Qingming Festival. The artist portrayed a total of about 550 characters, 50 to 60 heads of livestock, some 20 each of carriages, sedan chairs and boats, and about 30 houses, giving a vivid depiction of various aspects of social life. It is of great historical and artistic values.
Nederlands: Langs de rivier tijdens het Qingming Festival
中文: 清明上河图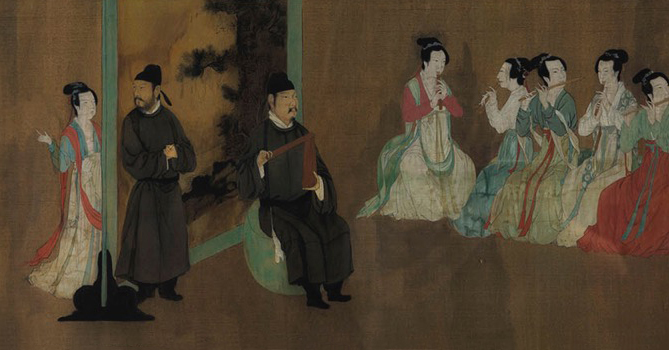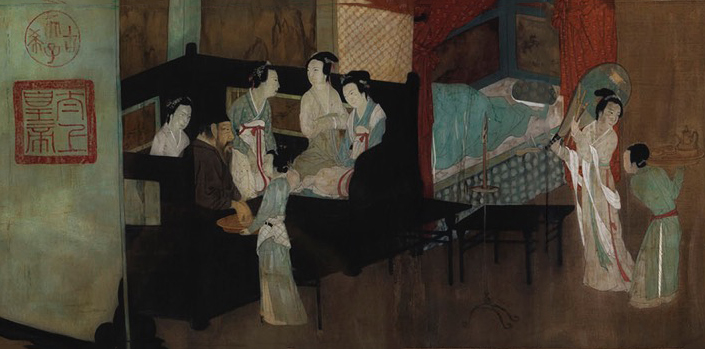 - The Night Revels of Han Xizai by Gu Hongzhong, Five Dynasties, ink and colour on silk, handscroll, 28.7 x 335.5cm, in the collection of the Palace Museum of Beijing. Recreated work by Zhang Huirong
It depicts scenes that Han Xizai hosts banquets. Lively characters, smooth lines and gorgeous colours reflect luxurious life and mentality of aristocrats during that period. It is a masterpiece of ancient figure painting and reserves a seat for Gu Hongzhong in the history of traditional Chinese painting.
Nederlands: De nachtelijke feestmalen van Han Xizai
中文: 韩熙载夜宴图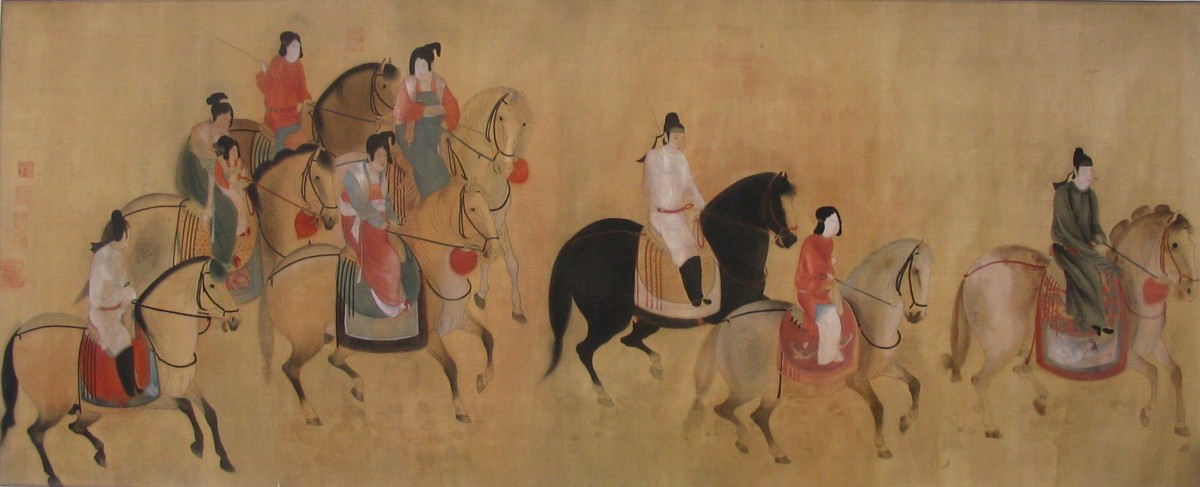 - Lady Guoguo's Spring Outing by Zhang Xuan, the copy work by a painter of the Song dynasty, ink and colour on silk, 52 x 148cm, in the collection of Liaoning Provincial Museum, Shenyang. Recreated work by Zhang Huirong
The painting reflects the horse riding by a rich lady, the wife of Duke of Guo, a sister of the highest-ranking imperial concubine Yang Yuhuan in the Tang dynasty, during a beautiful spring season. The painting showed the uniqueness in composition, modeling, colour and line, reproducing the luxurious court life.
Nederlands: Lady Guoguo's lente-uitstapje
中文: 虢国夫人游春图
- Ladies Preparing Newly Woven Silk by Zhang Xuan, Tang dynasty, the copy work by a painter of Song dynasty, handscroll, ink and pigment on silk, 37 x 147 cm, in the collection of Museum of Fine Arts, Boston, USA. Recreated work by Zhang Huirong
It depicts a typical occasion of the palace ladies spinning and weaving silk. There are twelve women of different ages in the picture, each one with various postures and expressions on their faces. The strokes are delicate and mild, presenting the steady and unrestrained atmosphere in the flourishing age.
Nederlands: Dames die nieuw geweven zijde voorbereiden
中文: 捣练图
- Sketch of Butterflies by Zhao Chang, Northern Song Dynasty, handscroll, colour on paper, 27.7 x 91 cm, in the collection of the Palace Museum of Beijing. Recreated work by Zhang Huirong
The sketch's composition shows great originality. The artist grouped brambles, wild flowers and bending reed in the painting's lower part in graceful disorder. The blank space intentionally left in the upper part is dotted with several fluttering butterflies. It displays the painter's superb skill in painting.
Nederlands: Geschetste vlinders
中文: 写生蛱蝶图