Booming in China: Everything Can be Live-Streamed
It was in 2011 that Viya, owner of seven clothes stores based in Xi'an (西安), first realised the emergence of e-commerce. One of her customers, after trying on many clothes in store, took out her phone and readily found similar items with a lower price from an online shopping platform. Unsurprisingly, she left empty handed. Then becoming aware of the bright prospect of online sales, Viya quickly moved to open a new online clothes store on the biggest e-commerce website in China – Taobao (淘宝), and became a live-streamer after a few years. The results speak for themselves: Viya soon became known as the 'Chinese live-stream queen' for her outstanding sales performance on Taobao, and generated more than 3 billion yuan (around €380 million) (Youku, 2020) over the Chinese shopping holiday in 2019.

Viya is selling products through live streaming ©Taobao Live
Viya may be the standout case reflecting the booming industry of live-streaming in China. Still, its popularity has skyrocketed not only in continuously rising areas like e-commerce, but also in emerging streaming domains such as tourism. According to iiMedia Research 2020a, the number of online live-streaming users was up to 504 million in 2019, and continues to grow in 2020. The population of streamers is also increasing rapidly; live-streamers on Taobao alone increased from 6000 in 2018 to 200,000 in 2019 (iiMedia Research, 2020b).
Such rapid growth has much to do with the diversity of live stream content now available. In recent years, platforms such as Taobao, Huajiao (花椒) and Douyu (斗鱼) have smartly combined live-streaming with other sectors including e-commerce, entertainment, gaming, education and charity. This range of offerings first introduced and then consolidated the 'live-streaming plus' business model in China. Live-streaming plus e-commerce leads the way, with live-streaming plus travel also springing up in the wake of the coronavirus lockdown. Both areas rack up millions of live viewers, and opportunistic streamers are building careers on these platforms.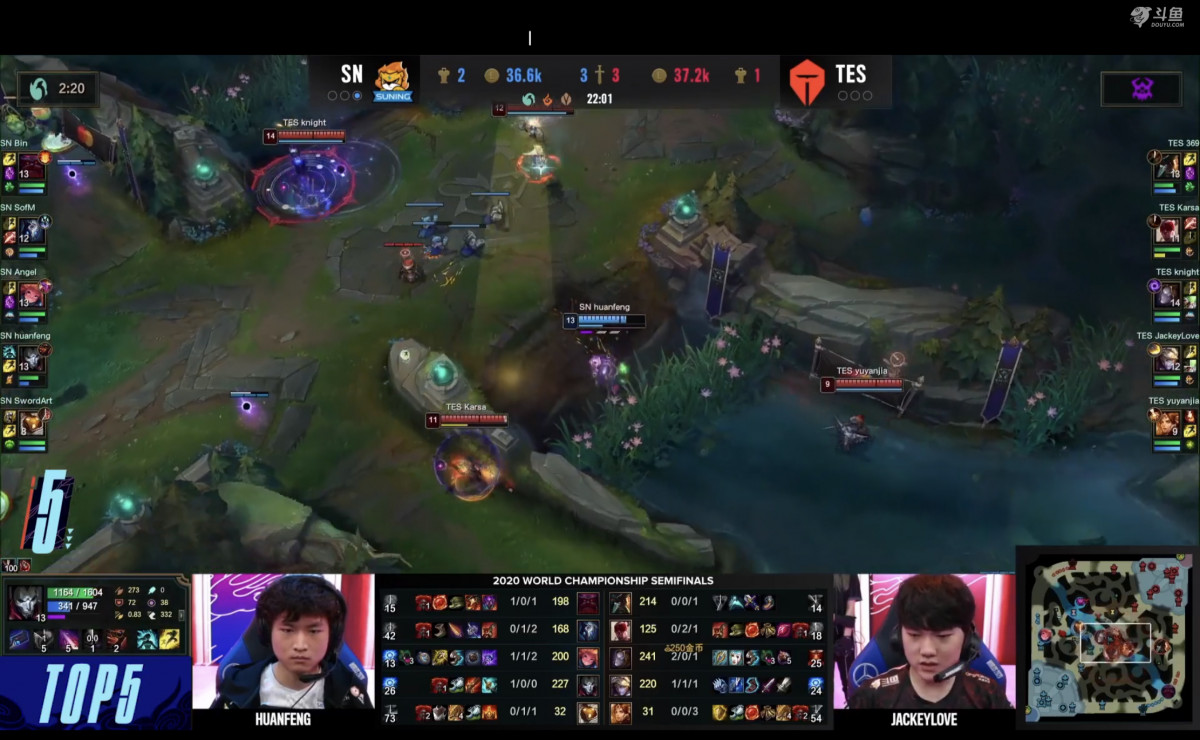 Live stream: League of Legends semi-final 2020 ©Douyu
Live streaming plus e-commerce
Looking at live streaming and e-commerce first, in the world of live-stream shopping, Viya is royalty. She has attracted more than 43 million live viewers in her booth at one time (Youku, 2020), and once made the sale of a rocket launch worth 40 million yuan. Every day at around 8pm, Viya goes live for her 4-hour stream. She presents and sells products ranging from cosmetics, clothing and food to appliances, cars and even houses. Viewers receive detailed information about the products, such as brand, contents, application, price, suitable population, along with Viya and her team members' personal experiences using them. The purchase link is provided too, often to the frenzied excitement of viewers keen to get their hands on the goods. The whole shopping process takes just a few clicks, with viewers having stored their shipping address and payment details in Taobao. Buyers are often very satisfied with their purchase – they know that Viya's booth hosts quality products and often runs giveaways which undercut conventional retailers on price.
This regular offering of high-quality products at low prices is what keeps people tuning in to Viya's booth. She and her team carefully select only 30 to 40 products from around 1000 options to present each day and use her drawing power to negotiate discounts from the retailers. Because of this, Viya has won the respect and trust of her followers, which in turn, leads to more and more people dropping in to her booth to buy products.
As well as satisfying consumers' material demands, a visit to the booth often gives something more to the viewers – a connection with people and the outside world. Viewers' messages and questions, whether or not they relate to the products, are often answered quickly by Viya herself. Celebrities sometimes drop in, helping to promote the goods and create a relaxing atmosphere through casual chat and interactive games, such as lucky draw. For a lot of viewers, even those who do not intend to buy anything, a live broadcast booth full of laughter and chatting provides great entertainment in the evenings, and a welcome alternative to watching shows online or on TV.
Viya is live streaming on a Chinese documentary TV show We are On The Way ©SMG Shanghai TV official Youtube channel
Viewers are certainly not the only beneficiaries of the live-streaming plus e-commerce model. Successful influencers like Viya not only gain reputation and popularity, but also take a healthy cut of the earnings. This had led to a growing number of people choosing live-stream sales as their occupation. Retailers are happy to let their products go for a lesser margin thanks to the increase in sales volume and enhancement of brand awareness gained from the live booth appearances.
The platforms are happy too, gaining a great amount of network flow directed by these influencers and celebrity appearances. All parties involved seem to get what they want from each other by using the live commerce model.
Live streaming plus travel
While live streaming plus e-commerce has developed steadily in the past few years, live streaming plus travel has emerged only recently in China, scratching the travel itch caused by the large-scale coronavirus lockdowns. In early March 2020, China's State Administration of Cultural Heritage (SACH) launched a series of online museum exhibitions across the country on live-streaming sites, which were warmly received by both the audience and the museums nationwide. Inspired by this, NextportChina, a digital marketing agency based in Amsterdam, along with Globi co-organised a similar event called Virtual Tour of the Netherlands (Nextport China, 2020), intending to aid the Dutch tourism industry under lockdown and also to introduce the country and its culture to the Chinese audience both at home and abroad.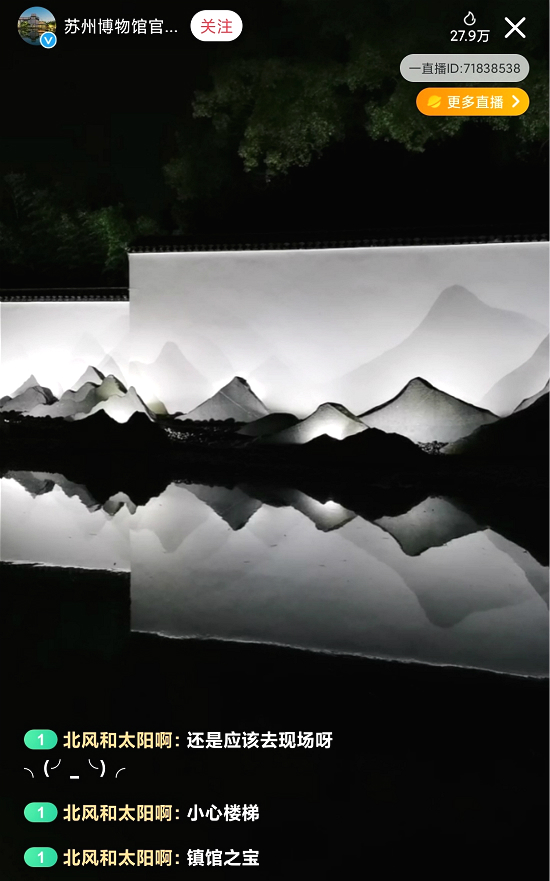 Live stream: Suzhou Museum ©Yizhibo
After a few weeks of preparation, the live-streaming team eventually selected four Dutch tourist attractions largely unknown to Chinese tourists: de Haar castle, Efteling theme park, the miniature park Madurodam and the Mauritshuis museum. In each episode, a Chinese streamer Gina Zhang and a Dutch streamer Danny Nobel (who speaks fluent Mandarin) visited one of the destinations, bringing the viewers along for the ride. Zhang admitted that this was her first live broadcast, and that she found live streaming much more complicated than expected. She was tasked with several challenges, like gaining sufficient background knowledge about the place being introduced, interacting with the audience and grabbing their attention, and dealing with unanticipated problems and issues during the tour. The performance of the streamers and their production team improved in real time from one episode to the next, and the virtual tour received very positive feedback and triggered valuable discussions on Chinese and Dutch culture.
Live streaming travel shows like Virtual Tour of the Netherlands offer a fresh perspective on tourist attractions that remain foreign but appealing to the audience. Our wish to explore the world has, in 2020, been realised only through our phones and computers. While uncertainty remains, many people bitten by the travel bug are unable or unwilling to visit the places they wish to see. Virtual tours via streaming provide not only a vivid picture and demonstration of these places, but also a great chance to interact with like-minded people worldwide. No wonder then that this new model has become such an instant hit, with people confined to their homes and lacking connection with others and their surroundings.
However, Zhang believes that despite virtual tours offering a new experience in the field of travel, it can never replace real world tourism. After all, we all want to see with our own eyes, feel with our own senses, and remember our journeys in our own hearts.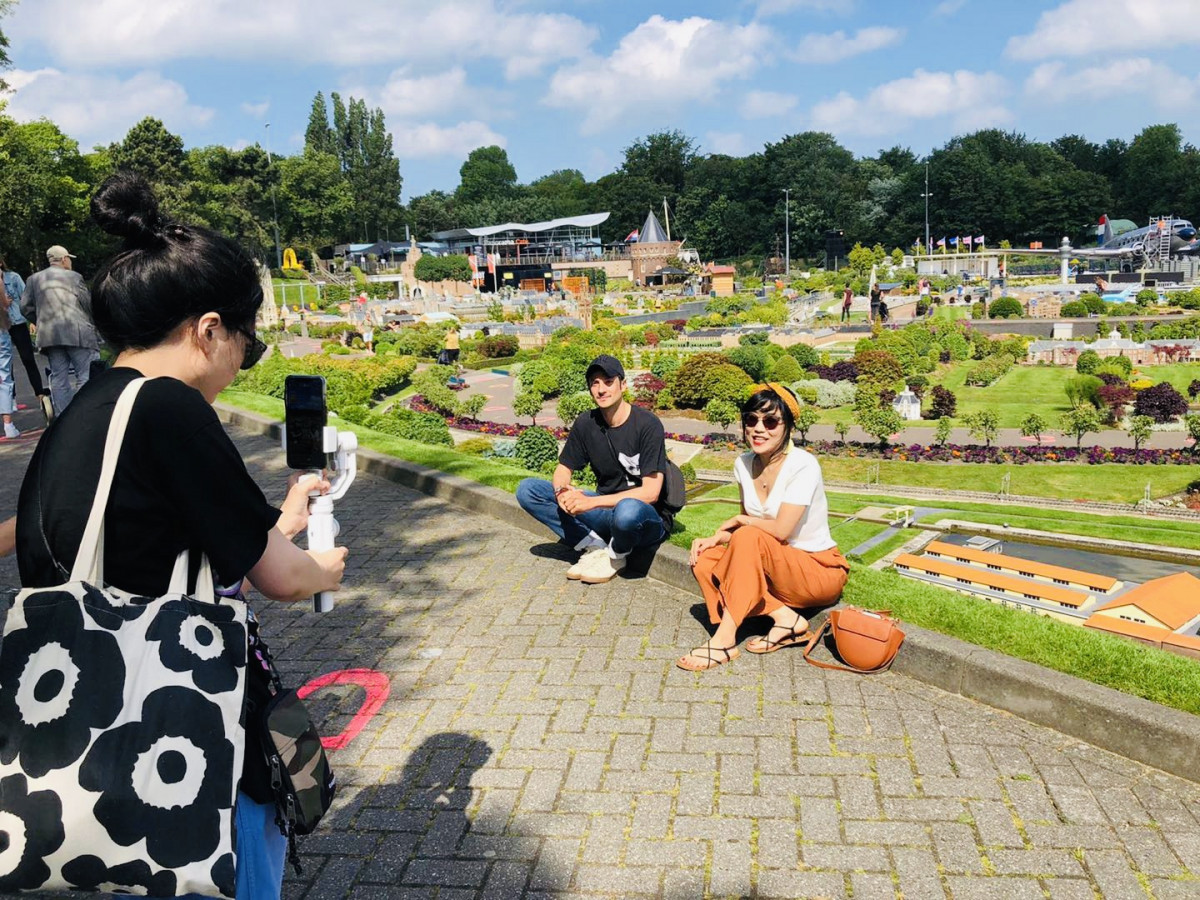 Gina and Danny are live streaming in Madurodam © Vitual Tour of the Netherlands
To summarise, China is embracing this new media trend, with a growing number of people not only starting to watch live streams but also choosing to participate, interact and even become a streamer themselves. Stories of successful broadcasters like Viya motivate people with a gift for presenting to utilise their abilities and talents online. For viewers, live-streaming rooms and booths have become a new environment for them to carry out various activities like shopping, travelling, learning and gaming with little to no financial expense. The time that everything can be live-streamed is on its way.
Under the impact of live-streaming, Chinese society is progressively taking shape. The digitalisation of museums has been massively accelerated due to the success of live streaming tours, and many other areas of interest are scrambling to be featured on live streaming platforms. But, while we embrace the benefits and convenience that live streaming brings, it is necessary to think about potential problems it may cause. How can the industry be regulated to ensure the delivery of healthy information only? How can obsession and irresponsible financial commitment be curbed? Perhaps above all, both viewers and creators must remember that too much screen time is harmful regardless of the medium, and that online activity should not replace quality time with friends and family close by. With all the advancements made in the live streaming industry, China must strive to minimise the potential negative impacts of the industry and maintain a balance between the real and virtual worlds.
References
iiMedia Research (2020a). Research Report on Chinese Livestreaming Industry in 2019-2020. [2019-2020年中国在线直播行业研究报告]. Retrieved from https://www.iimedia.cn/c400/69017.html
iiMedia Research (2020b). Data Analysis of Livestreaming Industry: The Number of Live Streamers on Taobao Live was up to 20000 in 2019. [直播行业数据分析:2019年中国淘宝直播平台主播人数为20000人]. Retrieved from https://www.iimedia.cn/c1061/69517.html
NextportChina (2020). Efteling. Retrieved from https://www.nextportchina.com/cases/efteling/
Youku (2020, January 2). Viya says persistence brings success. [薇娅谈成功路只有坚持]. [Video]. Retrieved from https://v.youku.com/v_show/id_XNDQ5MjM4NjIwNA==.html
Source: CGTN Europe Youtube channel